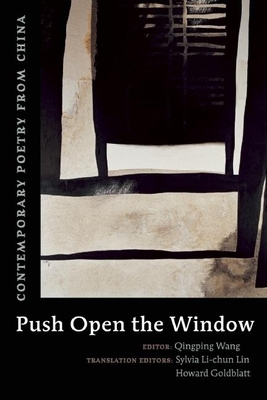 Push Open the Window
Contemporary Poetry from China
Paperback

* Individual store prices may vary.
Description
" It] was Tomas Transtr mer who said that poetry was like the notes kids pass back and forth in the classroom, while that history teacher drones away at the podium. We are going to be hearing a lot about China in the next decade, about its economy, its foreign and environmental policies. It's going to be the work of translation that will give glimpses--human glimpses--at what's going on."--Robert Hass, The Believer
Forty-nine of China's finest contemporary poets are represented in this luminous bilingual anthology, produced as part of the National Endowment for the Arts' International Literary Exchanges. Profoundly influenced by the Cultural Revolution, the poets' work reflects the turmoil of that time--from the blunt and sharply focused political work of Bai Hua and Yu Jian to the hermetic images and landscapes of the Misty poets.
From "Higher Duty" by Shu Ting:
On my way home, I stop by the market at Huangjia Ferry
To buy a dozen eggs and half a watermelon
Miffed that the greengrocer will not cut me a deal
I pocket some green onions when he is not looking
I might someday be carrying out my duties
As General Secretary of the United Nations
Devoting myself completely to world peace.
Even so, I did not forget
To make egg-drop soup with green onions for my son.
The poets were selected by Chinese editor Qingping Wang. The project was coordinated in the United States by noted translators Howard Goldblatt and Sylvia Li-chun Lin.
Copper Canyon Press, 9781556593307, 307pp.
Publication Date: October 18, 2011
About the Author
Qingping Wang: Mr. Wang studied at Beijing University from 1983-87 and majored in Chinese Literature. He has been with the People's Republic of China Literature Publishing House since 1987, moving to the position of Editor for Poetry and Fiction in 2002.