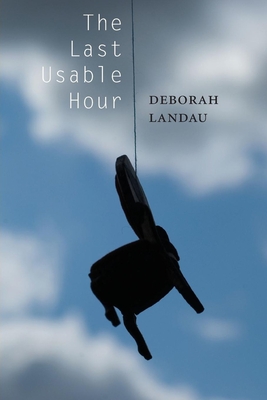 The Last Usable Hour (Lannan Literary Selections)
Paperback

* Individual store prices may vary.
Description
"The poems of Landau's stunning second collection are dark, urgent, sexy, deeply sad, and, above all, powerful."--Publishers Weekly, starred review
"Landau's intimate, lonely poems are profoundly engaged with the experience of the self in its starkest moments: when it is deprived, nocturnal, barely lingual...She creates a deeply erotic and resonant encounter between the lyric I and its solitude." --The Boston Review
"She is both confessional and direct, like Sylvia Plath and Allen Ginsberg. Her taut, elegant, highly controlled constructions meditate upon yearning and selfhood... Landau reminds us of the nuanced beauty of language as, through their directness, her tight, graceful poems make readers feel as if they spoke only to them." --Booklist
"These beautiful harrowing poems are new-minted and young, but also age-old, broken and wise. She has found the perfect tone for her 'city of interiors.'"--Huffington Post
Hooray for a writer who can weave presence and absence, longing and loss of longing, into a tapestry of language as rich, honest, and compelling as this.--Naomi Shihab Nye
Landau registers the intensities of the flesh: pleasure, desire, limitation, and, ultimately, disappearance.--Mark Doty
It is always nighttime in Deborah Landau's second collection--a series of linked lyric sequences, including insomniac epistolary love poems to an elusive someone. Here is a haunted singing voice, clear and spare, alive with memory and desire, yet hounded by premonitions of a calamitous future. The speaker in this ghost book is lucid and passionate, even as everything is disappearing.
blame the egg blame the fractured stones
at the bottom of the mind
blame his darkblue glare and craggy mug
the bulky king of trudge and stein
how I love a masculine in my parlor
his grizzly shout and weight one hundred drums
in this everywhere of blunt and soft sinking
I am the heavy hollow snared
the days are spring the days are summer
the days are nothing and not dead yet
Deborah Landau was educated at Stanford University, Columbia University, and Brown University, where she was a Javits Fellow and received a PhD in English and American literature. She co-hosts Open Book on Slate.com and is the Director of the NYU Creative Writing Program. She lives in the Soho neighborhood of New York City.
Copper Canyon Press, 9781556593345, 69pp.
Publication Date: June 21, 2011