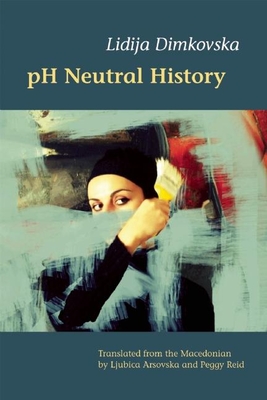 pH Neutral History
Paperback

* Individual store prices may vary.
Description
Shortlisted for the 2013 Best Translated Book Awards.
Dimkovska pins readers to the wall with rapid-fire linguistic energy.--Publishers Weekly, starred review
Dimkovsaka has the] stunning capacity to transform the ridiculous into something poignant and utterly precise.--Boston Review
From the intersection of boundaries, Macedonian poet and novelist Lidija Dimkovska scrutinizes life's customary and trivial details to expose the consequences--both confusing and edifying--of living in an age of contradictory ethics. These poems are packed with unusual connections and surprising detail, and populated with family characters as well as Bruno Schultz, Laurie Anderson, and George Steiner. Bilingual presentation, with Macedonian en face.
From Ideal Weight:
Our river can be seen only through a small basement window.
And nobody dies absolutely any more. The middle-class scrapes
the price tags off presents, decorates windows with laser stars, plays shadow theatre
with rubber gloves on. It makes faces at you as you cry:
I exorcise zombies professionally Be free again
and I know if you're too fat or too thin life and death are one and the same burden.
Only someone of ideal weight can carry the cross upright . . .
Poet and novelist Lidija Dimkovska was born in 1971 in Macedonia and she earned a doctoral degree in Romanian literature in Bucharest. She has published six books of poetry and one novel; her work has been translated into twenty languages. Dimkovska lives and teaches in Ljubljana, Slovenia.
Copper Canyon Press, 9781556593758, 75pp.
Publication Date: September 4, 2012
About the Author
Lidija Dimkovska: Poet, novelist, and translator Lidija Dimkovska was born in Skopje, Macedonia. In her native language she has published eight books. She is the recipient of numerous literary awards, and her work has been translated into more than 20 languages. She lives in Ljubljana, Slovenia. Ljubica Arsovska: Ljubica Arsovska has worked on English translations of plays, poems, short stories, and novels, including Dimkovska's Do Not Awaken Them with Hammers. She is editor-in-chief of Kulturen zivot (Cultural Life), the leading cultural magazine in Macedonia. Peggy Reid: Peggy Reid is a translator of Macedonian poetry and prose. Reid has received many awards, including the Macedonian Literary Translators' Society Award and two first prizes at the Stratford-upon-Avon Poetry Festival for her own poetry. She teaches English at the Saints Cyril and Methodius University.