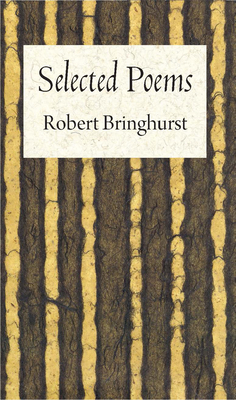 Robert Bringhurst
Selected Poems
Paperback

* Individual store prices may vary.
Description
Robert Bringhurst may well be the poet we have all been waiting for, one who can reclaim for poetry the dignity, wit, brilliance, and wisdom it has recently appeared to have mislaid. He is without doubt a major poet, not only in the context of Canadian letters, but in that of all writing of our time.--Poetry
Inspired by Eastern, pre-Socratic, and Native American art and ideas, Robert Bringhurst's Selected Poems gathers work from fifteen volumes and embodies music, ecology, mythology, and philosophy. As he writes, When you think intensely and beautifully, something happens. Bringhurst's passion for books and words extends to the design and typography of this gorgeous volume.
Essay on Adam
There are five possibilities. One: Adam fell.
Two: he was pushed. Three: he jumped. Four:
he only looked over the edge, and one look silenced him.
Five: nothing worth mentioning happened to Adam.
The first, that he fell, is too simple. The fourth,
fear, we have tried. It is useless. The fifth,
nothing happened, is dull. The choices are these:
he jumped or was pushed. And the difference between them
is only an issue of whether the demons
work from the inside out or from the outside
in: the one
theological question.
Robert Bringhurst is a poet, typographer, and linguist, well known for his award-winning translations of Haida storytellers. His manual The Elements of Typographic Style is one of the world's most influential texts on typographic design. He lives on Quadra Island, British Columbia.
Copper Canyon Press, 9781556593918, 266pp.
Publication Date: February 1, 2012
About the Author
Robert Bringhurst: Robert Bringhurst is a poet, typographer, and lifelong student of Navajo, Haida, and Cree oral literatures. In the 1960s he studied linguistics under Noam Chomsky at MIT, and has since become one of Canada's most respected poets and cultural historians. A professor and translator of Arabic and Greek, Bringhurst has been a Guggenheim Fellow in Poetry, writer-in-residence at the University of Edinburgh, and winner of the prestigious Edward Sapir Prize in Native American linguistics. He lives on Quadra Island, off the coast of British Columbia.