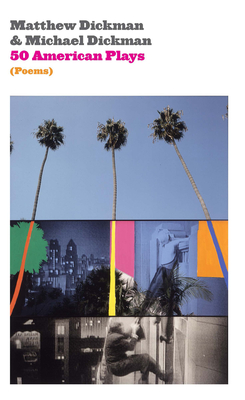 50 American Plays (Poems)
Paperback

* Individual store prices may vary.
Description
Their verse . . . is strikingly different. Michael's poems are interior, fragmentary, and austere, often stripped down to single-word lines; they seethe with incipient violence. Matthew's are effusive, ecstatic, and all-embracing, spilling over with pop-cultural references and exuberant carnality. --The New Yorker
Identical twins Michael and Matthew Dickman once invented their own language. Now they have invented an exhilarating book of poem-plays about the fifty states. Pointed, comic, and surreal, these one-page vignettes feature unusual staging and an eclectic cast of characters--landforms, lobsters, and historical figures including Duke Ellington, Sacajawea, Judy Garland, and Kenneth Koch, the avant-garde spirit informing this book introduced by playwright John Guare.
Lucky in Kansas
Judy Garland: This is always the worst part
Tin Man: The coming back
Judy Garland: Yes, it fucking sucks, it's depressing as shit
The Lion: Well, we're lucky to still be employed at this farm
Straw Man: I wouldn't call it lucky
The Lion: We were lucky to get back
Straw Man: That's not really lucky either I don't think you know what lucky means
Judy Garland: It's funny what you miss
Tin Man: The running
Judy Garland: The flying
Tin Man: The flying monkeys
Judy Garland: The beautiful flying monkeys above the endless emeralds the unbelievably green world
Michael Dickman and Matthew Dickman are identical twins who were born and raised in Portland, Oregon. Michael received the 2010 James Laughlin Award for his second collection Flies (Copper Canyon Press, 2011). Matthew won the prestigious APR/Honickman Award for his debut volume, All-American Poem.
Copper Canyon Press, 9781556593932, 63pp.
Publication Date: June 5, 2012
About the Author
Michael Dickman: Michael Dickman is the winner of the 2010 James Laughlin Award from the Academy of American Poets for his second collection, Flies. His first book, The End of the West, was published in 2009. He has received fellowships from the Michener Center for Writers, the Fine Arts Work Center, and the Vermont Studio Center. His poems are regularly published in The New Yorker, and his work has appeared widely, including in The American Poetry Review, Field, Tin House, and Narrative Magazine. He was born and raised in Portland, Oregon, and now teaches poetry at Princeton University. Matthew Dickman: Matthew Dickman grew up in Portland, Oregon with his twin brother Michael. His first book, All-American Poem, won numerous prizes including the APR/Honickman First Book Prize, Kate Tufts Discovery Award, and Oregon Book Award. He has earned fellowships from The Michener Center for Writers, The Vermont Studio Center, and The Fine Arts Work Center. His poems have appeared in Tin House, McSweeney's, Ploughshares, and The New Yorker, among others. W.W. Norton & Co. will publish his second book in 2012. Matthew lives in Portland where he writes and works as an editor at Tin House.