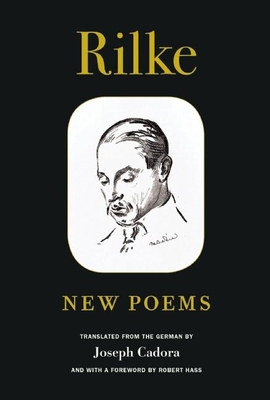 Rilke
New Poems
Paperback

* Individual store prices may vary.
Description
Essential for all poetry collections. . . . Translator Joseph Cadora renders a beautiful new edition complete with commentary on each poem, based on Rilke's letters, numerous biographies, and related works as well as an introduction outlining his approach to the translation. --Library Journal, starred review
The] renderings of the canonical poems, such as The Panther, Orpheus, Eurydice, Hermes, and Archaic Torso of Apollo (to name a few), are worthwhile additions to the enormous body of Rilke's work already translated by others. --Booklist
Ranier Maria Rilke is one of the world's best-selling poets, and Rilke: New Poems contains many of his most iconic pieces. Translator Joseph Cadora has created the definitive English-language version through meticulous faithfulness to Rilke's German and insightful commentary on each of the 400-plus poems. Bilingual, with an introduction by Robert Hass.
The Panther
From endless passing of the bars his gaze
has wearied--there is no more it can hold.
There seem to be a thousand bars always,
and past those thousand bars there is no world.
The soft pad of his brawny, rippling pace
turns itself in a tightening circle till,
like a mighty dance around a tiny space,
it centers a numb but still enormous will.
But at times the shades of his pupils rise,
grasping an image he cannot resist;
through his tense, unmoving limbs it flies,
and within his heart it ceases to exist.
Rainer Maria Rilke (1875-1926) is one of the world's most beloved poets.
Joseph Cadora is a guitarist, writer, and translator. He lives in Berkeley, California.
Copper Canyon Press, 9781556594250, 512pp.
Publication Date: September 13, 2016
About the Author
Rainer Maria Rilke: Rainer Maria Rilke (1875-1926) is one of the world's most beloved poets. Working at the cusp of the century, Rilke bridged the gap between traditional and modernist poetics. Born in Prague, Rilke traveled widely across Europe and Egypt, living for a substantial amount of time in Paris. Joseph Cadora: Joseph Cadora is a guitarist, writer, and translator whose fiction and non-fiction have been published in Southern Humanities Review, The Montserrat Review, and the San Francisco Chronicle. His collection of short stories, The Millennial Fictions, won the 2009 Eisner Prize for Prose. Poet and translator Robert Hass served as the United States Poet Laureate from 1995 to 1997. He has been honored with a MacArthur "Genius" Fellowship, the National Book Award, a Pulitzer Prize, and the National Book Critics' Circle Award. Mr. Hass is a professor of English at University of California, Berkeley.