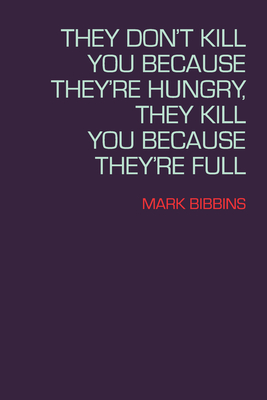 They Don't Kill You Because They're Hungry, They Kill You Because They're Full (Lannan Literary Selections)
Paperback

* Individual store prices may vary.
Description
Honored as a Best Poetry Book of the Year by Publishers Weekly
The book's a little crazy, packed with air quotes and brackets, jokes and condemnations, forms that explode across the page. Crazily enough, it's also packed with truth."--NPR
"The voice of this third book from Bibbins is marked and numbed by the onslaught of American media and politics that saturate the Internet, television, radio, and smartphone: 'the way things are going, children/ will have to upgrade to more amusing.' Much like advertisements or news stories vying for viewer's attention, the book intentionally overwhelms, eschewing sections; the author instead differentiates the poems by repetition, creating a sort of echo chamber, similar to the way viral information cycles through social media platforms."--Publishers Weekly, starred review
A] hilarious send-up of contemporary values and an alarm bell of sorts, directing attention to all that is so sinister in our civilization."--American Poets
Whip-smart and wickedly funny, They Don't Kill You is Bibbins's most authoritative and self-possessed collection to date.--Boston Review
The poems in Mark Bibbins's breakthrough third book are formally innovative and socially alert. Roving across the weird human landscape of modern politics, media-exacerbated absurdity, and questionable social conventions, this collection counters dread with wit, chaos with clarity, and reminds us that suffering is small//compared to what?
Mark Bibbins teaches in the graduate writing programs at The New School and Columbia University, and edits the poetry section of The Awl. He lives in New York City.
Copper Canyon Press, 9781556594588, 106pp.
Publication Date: March 25, 2014
About the Author
Mark Bibbins is the author of The Dance of No Hard Feelings; The Anxiety of Coincidence, a digital-only chapbook; and Sky Lounge, which received a Lambda Literary Award. He teaches in the graduate writing programs at The New School, where he co-founded LIT magazine, and at Columbia University. Bibbins is the editor of the poetry section of The Awl and the recipient of a New York Foundation for the Arts fellowship in poetry. His poems have appeared in Poetry, The Paris Review, Boston Review, Tin House, The Best American Poetry, and Legitimate Dangers: American Poets of the New Century.