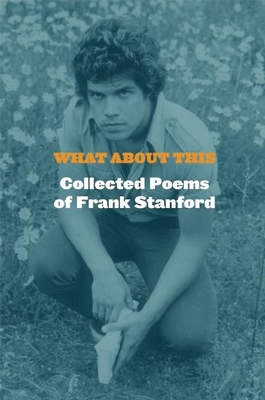 What about This
Collected Poems of Frank Stanford
Hardcover

* Individual store prices may vary.
Description
"The big event in poetry for 2015 will likely be the long-awaited resurrection of Frank Stanford.--NPR.org
National Book Critics Circle Award Finalist
"What About This... introduces to a broader audience an important and original American poet -- sensitive, death-haunted, surreal, carnal, dirt-flecked and deeply Southern -- whose promise, only partly fulfilled, it hurts to contemplate. His poems flick on a heretofore unnoticed porch light in your mind."--Dwight Garner, The New York Times
* "Stanford fearlessly explored the terror and wonder of the mind and the physical world."--Publishers Weekly, starred review
* Highly recommended work from an American original.--Library Journal, starred review
"What About This marks a rare moment, when a critical and completely original American voice is recovered after decades and takes its rightful place in the canon...Now that the work is finally available, the real risk is that Stanford's poetic legacy will play second fiddle to the myth of his life and death. The beautiful young suicide is a hard narrative to shake....What About This offers the fullness of both the work and the image, and leaves it to readers to decide what they will value most."--Jay Deshpande, The New Republic
This vibrant volume forms a comprehensive selection from his huge output, and includes published and unpublished poetry and prose, archival photographs, original manuscripts, a rejection letter, an interview, and excerpts from the 'ungovernable' fifteen-thousand-line epic poem, 'The Battlefield Where the Moon Says I Love You'...Stanford's poems are by turns earthly and visionary.--The New Yorker
"The big event in poetry for 2015 will likely be the long-awaited resurrection of Frank Stanford, a legendary badass from Arkansas, much of whose poetry has been unavailable since his suicide at the age of 29 in 1978... Stanford was a hell of a metaphor-maker and simile-slinger, and could cast a spell of extreme intensity with a flick of his wrist."--NPR.org
The book What About This], layered with north Delta dialect and superstition, departs again and again on dream-like thought sequences in which unpredictable imagery continually startles the imagination and overwhelms it with visceral beauty.--Matthew Henricksen, Arkansas Times
"Frank Stanford's What About This is a monumental achievement. So much of Stanford's work was unpublished, scattered about in limited-edition, hard-to-find volumes, but now it has been collected and readers will rejoice to discover (or rediscover) a distinct poetic voice.... He was a voracious reader and was heavily influenced by Thomas Merton and French writers. He loved the Surrealists and Rimbaud, Mallarme, Follain and the French filmmakers Cocteau and Bu uel. His poetry is wildly imagistic, imbued with Southern folklore and culture, and it's--to use Stanford's own word--'strange.'--Tom Lavoie, Shelf Awareness
Stanford was a teenage prodigy out of Arkansas bleeding beautiful streams of Faulkner-like fever dream that has survived mostly in out-of-print chapbooks passed hand-to-hand. Now a monster compilation, 'What About This: Collected Poems of Frank Stanford, ' has assembled more than 700 pages of poetry and a little prose like a moon-spattered Bible.--Dean Kuipers, Los Angeles Times
The work of poet Frank Stanford, whose turbulent life ended in suicide, is experiencing a well-deserved renaissance.--Mary Ann Gwinn, Seattle Times
I don't believe in tame poetry. . . . Poetry busts guts.--Frank Stanford
As Dean Young writes in the Foreword to the book: Many of these poems seem as if they were written with a burnt stick. With blood in river mud... Frank Stanford, demonically prolific, approaches the poem not as an exercise of rhetoric or a puzzle of signifiers but as a man 'looking for his own tongue' in a knife-fight with a ghost.
Copper Canyon Press, 9781556594687, 764pp.
Publication Date: April 14, 2015