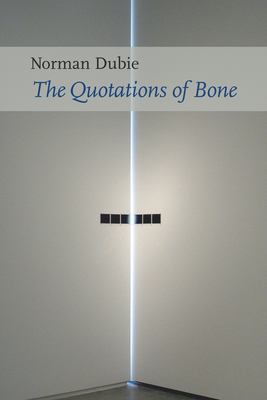 The Quotations of Bone
Paperback

* Individual store prices may vary.
Description
Winner of the 2016 Griffin International Poetry Prize
Norman Dubie is one of our premier poets.--The New York Times
Dubie's poems are unmatched in their incandescent imaginings, gorgeous language, and fearless tracking of the inexorably turning wheel of existence.--Booklist
Dubie is] one of the most powerful and influential American poets.--The Washington Post
"The poems in Dubie's newest collection The Quotations of Bone] are deeply oneiric, governed by vigorous leaping energy that brings the intimate into contact with history, and blurs the distinction between what is real because it once happened, and what is real because of the emphatic manner in which it has been felt. Longtime admirers of Dubie will certainly recognize the familiar mind and spirit able to punch through the surface of experience and into deep psychic quandary with a single revelatory gesture (Did you ever want to give someone // All your money?)-but that tendency is greatly amplified here. One feels the unconscious mind working ceaselessly, even playfully, alongside memory, imparting the poems as if with a strange and consoling living spirit. This makes for a heightened sense of mystery and mortality in poems of private experience. And when such an impulse is aligned with public history--the division of Germany, say, or the acceleration of the planet's ecological crisis--it is outright haunting. Dubie's uncontested mastery of the lyric poem has, in this collection, broken into strange and revelatory territory."--Griffin International Poetry Prize Judges' Citation
In his twenty-ninth collection of poems, Norman Dubie returns to a rich, color-soaked vision of the world. Strangeness becomes a parable for compassion, each poem leading the reader to an uncommon way of understanding human capacities. In the futuristic sphere of The Quotation of Bone, the mind wanders meditatively into an imaginative and uncontainable history.
The Quotations of Bone
The meal of bone was a soured milk--
just the heads of giant elk
in a dark circle looking down
on a wooden bowl of soda crackers
and pork. One large knife
resting in the meat
of a woodsman's calloused hand.
He grins at his woman
who is slowly poisoning him
with the stringy resins of morning glory.
A tasteless turpentine with pink pig.
The speeches of bone
are matrimonial in early autumn--
by January there's a froth of blood
at a nostril.
He thinks a long icicle is buried in his ear.
She thinks D. H. Lawrence was a grim buccaneer.
I hate most men. Adore the few named Lou.
One small addendum:
the dead elk are grinning too.
Norman Dubie is a Regents professor at Arizona State University. He lives in Tempe, Arizona.
Copper Canyon Press, 9781556594830, 110pp.
Publication Date: June 16, 2015
About the Author
Norman Dubie: Norman Dubie was born in Barre, Vermont in April 1945. His poems have appeared in many magazines including The American Poetry Review, Bombay Gin, Crazy Horse, Gulf Coast, Narrative, The New Yorker, Paris Review, and Poetry. He has won the Bess Hokin Award of the Modern Poetry Association and fellowships from the Ingram Merrill Foundation, the John Simon Guggenheim Memorial Foundation, and the National Endowment for the Arts. The Mercy Seat: Collected and New Poems won the PEN Center USA prize for best poetry collection in 2002. He has published with Blackbird, a book-length futuristic work, The Spirit Tablets at Goa Lake. His most recent collection, The Quotations of Bone, is from Copper Canyon Press. He lives in Tempe, Arizona, and is a teacher at Arizona State University.