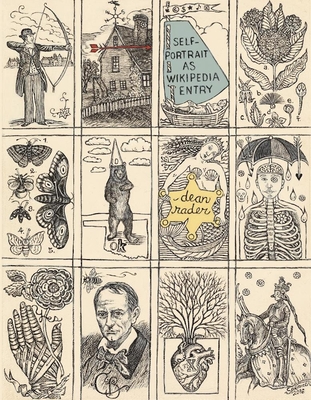 Self-Portrait as Wikipedia Entry
Paperback

* Individual store prices may vary.
Description
By writing honestly about the difficulties of self-representation, Rader represents himself as a writer who cares deeply about his audience and his craft. --ZYZZYVA
Rader's poetry asks how to be an artist in a nation founded on and still struggling with the demand for representation and what poetry as a medium means in an era of representational sprawl. --Jacket
Wikipedia articles are never finalized. In Dean Rader's energized and inventive new book, the poet considers identity of self and society as a Wikipedia page--sculpted and transformed by the ever-present push and pull of politics, culture, and unseen forces. And, in the case of Rader, how identity can be affected by the likes of Paul Klee's paintings and the characters from the children's stories about Frog and Toad. Rader's cagey voice is full of humor and inquiry, warmly inviting readers to fully participate in the creation.
From How We Survive: A Tryptich:
This afternoon I took a nap
wearing a costume that looks
just like me. Inside it I felt like
another person who happened
to know so many things about me,
like my preference for almonds over
cashews, how sometimes, when
I am in a strange room, I imagine
hopping from one piece of
furniture to the next . . .
Born in Oklahoma, Dean Rader has published in the fields of poetry, American Indian studies, and popular culture. He is a professor of English at the University of San Francisco, and writes regularly on literature and politics for The San Francisco Chronicle.
Copper Canyon Press, 9781556595080, 110pp.
Publication Date: February 21, 2017