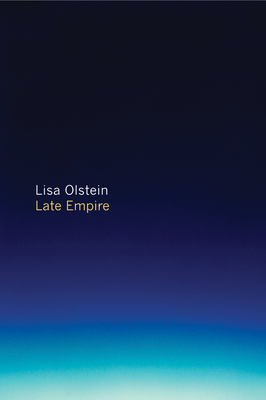 Late Empire
Paperback

* Individual store prices may vary.
Description
"This timely yet elemental collection unfolds where the exigencies and distractions of daily life brush up against the political, the ethical, and the existential." --Publishers Weekly
"Olstein here meditates on a world gone awry, limning in precise, beautifully modulated language both personal dislocation and the slings and arrows visited upon the community at large." --Library Journal>
"Brilliant and provocative." --The Literary Review
"In Late Empire, the poet throws herself into a disturbing discussion about 21st-century realities, pinpointing, questioning, and exhorting. It's a riveting picture of the micro, day-to-day busy-ness against the macro, overshadowing struggle of existential survival." --Rain Taxi>
In her fourth book―a gorgeous call-to-arms in the face of our current social and political conditions―Lisa Olstein employs her signature wit, wordplay, candor, and absurdity in poems that are her most personal―and political―to date. Like a brilliant dinner conversation that ranges from animated discussions of politics, philosophy, and religion to intimate considerations of motherhood, friendship, and eros, Olstein's voice is immediately approachable yet uncomfortably at home in the American empire.
Lisa Olstein is the author of four poetry collections and a book-length lyric essay. She is a member of the poetry faculty at the University of Texas at Austin where she teaches in the Michener Center for Writers and New Writers Project MFA programs.
Copper Canyon Press, 9781556595189, 104pp.
Publication Date: October 10, 2017
About the Author
Lisa Olstein: Lisa Olstein's debut collection of poetry Radio Crackling, Radio Gone (Copper Canyon, 2006) won the Hayden Carruth Award, and her second volume, Lost Alphabet (Copper Canyon, 2009), was named a "Best Poetry Book of the Year" by Library Journal. After receiving her BA from Barnard College, Olstein lived in Greece and studied at Harvard Divinity School before deciding to pursue an MFA at University of Massachusetts Amherst. She currently teaches at the University of Texas and lives in Austin.