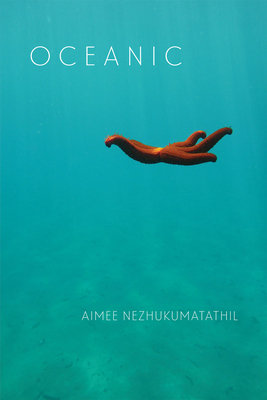 Oceanic
Paperback

* Individual store prices may vary.
Description
"Nezhukumatathil's poems contain elegant twists of a very sharp knife. She writes about the natural world and how we live in it, filling each poem, each page with a true sense of wonder." --Roxane Gay
"Cultural strands are woven into the DNA of her strange, lush... poems. Aphorisms...from another dimension." --The New York Times
"With unparalleled ease, she's able to weave each intriguing detail into a nuanced, thought-provoking poem that also reads like a startling modern-day fable." --The Poetry Foundation
"How wonderful to watch a writer who was already among the best young poets get even better " --Terrance Hayes
With inquisitive flair, Aimee Nezhukumatathil creates a thorough registry of the earth's wonderful and terrible magic. In her fourth collection of poetry, she studies forms of love as diverse and abundant as the ocean itself. She brings to life a father penguin, a C-section scar, and the Niagara Falls with a powerful force of reverence for life and living things. With an encyclopedic range of subjects and unmatched sincerity, Oceanic speaks to each reader as a cooperative part of the earth, an extraordinary neighborhood to which we all belong.
From "Starfish and Coffee"
And that's how you feel after tumbling
like sea stars on the ocean floor over each other.
A night where it doesn't matter
which are arms or which are legs
or what radiates and how--
only your centers stuck together.
Aimee Nezhukumatathil is the author of four collections of poetry. Recipient of a National Endowment for the Arts fellowship and the prestigious Eric Hoffer Grand Prize, Nezhukumatathil teaches creative writing and environmental literature in the MFA program at the University of Mississippi.
Copper Canyon Press, 9781556595264, 80pp.
Publication Date: April 10, 2018
About the Author
Aimee Nezhukumatathil has been widely celebrated for her lush imagination and all-embracing style. Preoccupied with earth science since childhood, Nezhukumatathil crafts her research-based poetry using curious phenomena of the natural world; realizing a vision of strangeness and beauty. Her full-length debut, Miracle Fruit: Poems, won the Tupelo press prize in 2003, followed by her Balcones prize-winning At the Drive-In Volcano. Her third collection, Lucky Fish, was the winner of a gold medal from the Independent Publisher Book Awards and the prestigious Eric Hoffer Grand Prize for Independent Books. Her many other honors include fellowships from the MacDowell Colony, the Wisconsin Institute for Creative Writing, and the National Endowment for the Arts. Today Nezhukumatathil serves as the poetry editor of Orion magazine. She teaches creative writing and environmental literature as a professor of English in the MFA program at the University of Mississippi in Oxford, where she lives with her husband and sons.