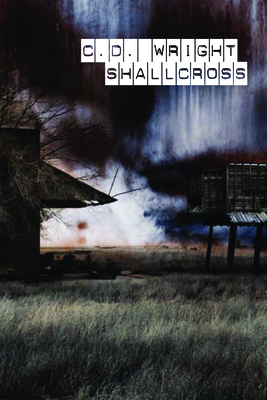 Shallcross
Paperback

* Individual store prices may vary.
Description
"Wright has found a way to wed fragments of an iconic America to a luminously strange idiom, eerie as a tin whistle." --The New Yorker
"Wright gets better with each book, expanding the reach of her art; it seems it could take in anything." --Publishers Weekly
"These poems are so perfect they appear to have been cut from optical glass with very sharp knives; the poet's eye moves over the treacherous landscape of the soul like a lunar eye, measuring seasons, marking time, setting houses and bodies on fire." --Rikki Ducornet
In ShallCross, C. D. Wright brings together brief, striking poems in tandem with the longer, unrelenting forms for which she has become recognized and beloved. Pushing the boundaries of genre, language, and poetic populism, ShallCross showcases Wright's singular voice that navigates a rigorous space between journalistic activism, stunning narrative, sociopolitical outrage, and erotic lyricism. This dazzling collection is further evidence that Wright was among our most thrilling and innovative contemporary poets.
. . . You are still young enough
To adopt a xolo
Write an opera on glass
Bed a chimera
Bedazzle and be devoured
The moonroof in your head
Slowly sliding open
To the scent of oleander
Copper Canyon Press, 9781556595431, 176pp.
Publication Date: September 11, 2018
About the Author
C.D. Wright was born and raised in the Ozark Mountains of Arkansas. She has published over a dozen collections of poetry, most recently One With Others (Copper Canyon Press, 2011). She has received numerous awards including a MacArthur Fellowship and taught for many years at Brown University.