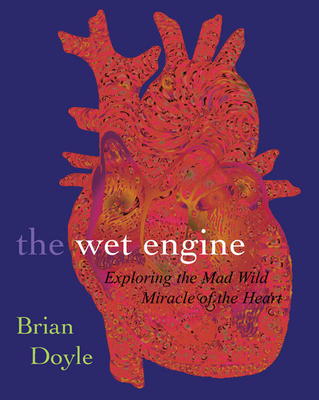 The Wet Engine
Exploring Mad Wild Miracle of Heart
Hardcover

* Individual store prices may vary.
Description
"Every creature on earth has approximately two billion heartbeats to spend in a lifetime. You can spend them slowly, like a tortoise, and live to be two hundred years old, or you can spend them fast, like a hummingbird, and live to be two years old."

The heart: it is known as the seat of the soul, the power house of the body, the essence of spirituality. No other bodily organ has so captured the imagination of human beings since the beginning of time.
This startling, genuinely unique book moves like a freight train through the scientific, emotional, literary, philosophical, and spiritual understandings of the heart -- from cardiology to courage, from love letters and pop songs to Jesus. The torment of Doyle's own infant son's heart surgery is the thread weaving the strands together, but the wisdom is for every person who seeks a more passionate life, in touch with the heart of God.
"This wonderful book has two heroes: a small boy with a damaged heart, and a surgeon who knows how to repair the damaged hearts of small boys. Such heroes deserve a gifted poet to sing their songs. Brian Doyle is that poet." -Chet Raymo, author of Climbing Brandon: Science and Faith on Ireland's Holy Mountain
Paraclete Press, 9781557254054, 186pp.
Publication Date: May 1, 2005
or
Not Currently Available for Direct Purchase