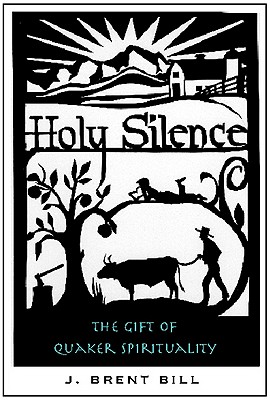 Holy Silence
The Gift of Quaker Spirituality
Paperback

* Individual store prices may vary.
Other Editions of This Title:
Paperback (11/11/2016)
Description
People of all faiths and backgrounds are drawn to silence. We yearn for it in these busy and difficult times, but often, when silence becomes available, we don't know what to do with it. For centuries, Quakers have taught that when we are silent, God grants us insights, guidance, and spiritual understanding that is different from what we might realize in our noisy, everyday lives. This wise book invites us to discover this and other unique gifts of the Quaker way. It is a satisfying experience and taste of a spiritual tradition unflinching in its dedication to listening for the sounds and voice of God.
"A quietly lovely book in a hasty, clanging world. Holy Silence is a cooling balm." -Philip Gulley, author of the best-selling Home to Harmony series
Visit Brent Bill at his blog: http://holyordinary.blogspot.com/
Praise For Holy Silence: The Gift of Quaker Spirituality…
If any book is true to its title, it is Holy Silence. Brent Bill beckons us to enter into silence so that we might find the holiness awaiting us there. More than that, he invites us into understanding the Quaker perspective on silence. And he examines the interior and exterior barriers to silence that confront us daily, sometimes drawing (with a droll sense of humor) on situations from his own life. With a glossary of "Quaker Words and Phrases" and an annotated list of selections for further reading, this book is a gently simple (but not simplistic) source of education and reflection. Congregational Resource Guide August 10, 2005

This is a book written by an American, J. Brent Bill, who is a Quaker Pastor in Indiana. It is both an inspiring and a useful book in that it follows each chapter with a 'Quietude Query' that provides a time for reflection after each chapter. Frankly I would get this book for the first five pages, which are a wonderfully evocative description of a truly gathered unprogrammed meeting, which he and his wife attended whilst on vacation, at which not a single word was spoken.
The whole theme of the book is Silence, with a capital S. If you follow the pattern of this book it can become a workbook that can be used as a daily spiritual exercise, devoted to the deepening of the Silence. To quote: 'True Silence is the rest of the mind and is to the Spirit what sleep is to the body, nourishment and refreshment'.
Silence is seen as a common element across many religions and spiritualities and is essential if we are to come to the Light within ourselves. However the reason we Quakers are so few in number in this world today is that silence is scary, as it allows our fears and worries to rise up and appear, as we find ourselves in true self-examination. Holy Silence is not just about sitting still and not speaking, it is about being wide awake with full awareness.
For the author Silence is seen as a major item of our soul care, a necessary element if we are to thrive ourselves, though the major problem here is realizing when we need silence. In talking about finding time for Holy Silence the author quotes Thomas Kelly, a quote that is seen as a hard question, though you must be the judge of that.
'Do you want to live in such an amazing Divine Presence that life is transformed and transfigured and transmuted into peace and power and glory and miracle? If the answer is yes then you can find time to engage in Holy Silence.'
For the author, whose dogmatic beliefs are fairly orthodox, Silence is the Quaker sacrament, the equivalent of the Eucharist in that Christ is seen as being present in both and, for Quakers, that is seen not just in the Silence but in the harmony of a truly Gathered Meeting, in which we wait in the expectation that the Divine Presence will come amongst us. The author sees this expectation as essential to the quality of the Quaker meeting and all at the meeting should have the same expectation. This would explain why meetings are variable in that the expectation is not always the same. Ours is a silent liturgy that allows for spoken ministry though, in the author's view, any ministry should improve the silence or not be spoken.
The book is very good on the process of the meeting and there are many useful suggestions as to what to do in meeting, though his view that deep silence is present whilst reading or creating imagery I found difficult, as to my mind this dissolves the Silence. He also deals at length with how to bring that same Silence into our everyday lives. Silence is said to need working at; even more so in our busy lives. However Silence is where we sift the worthwhile from the worthless and so it also allows us, in our everyday judging, to see if what we value is truly valuable, a real necessity if we are to sort out the truth in any Ministry we might give.
The book is a mine of practical advice throughout and maintains its useful function to the end, where the author provides a list of individual queries for use in one's own quietude moments. This is a book well worth reading and using regularly. Brian Ackroyd Quaker Monthly August 1, 2005
Paraclete Press, 9781557254207, 147pp.
Publication Date: April 1, 2005
About the Author
J. Brent Bill is a Quaker minister, retreat leader, and photographer. He's written more than twenty books including Holy Silence. Brent has served as a local church pastor, denominational executive, seminary faculty member, and go-cart track operator. He lives on Ploughshares Farm, which is forty acres of former farmland being reclaimed to tall grass prairie and native hardwood forest.
 
or
Not Currently Available for Direct Purchase