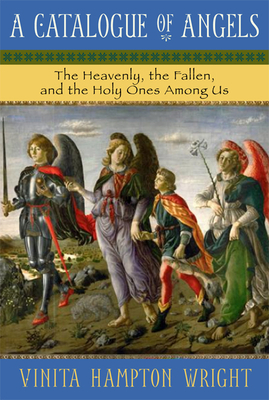 A Catalogue of Angels: The Heavenly, the Fallen, and the Holy Ones Among Us (Paperback)
The Heavenly, the Fallen, and the Holy Ones Among Us
Paraclete Press (MA), 9781557254214, 225pp.
Publication Date: August 1, 2006
* Individual store prices may vary.
or
Not Currently Available for Direct Purchase
Description

We often think of angels as winged creatures with supernatural powers that assist us when we are in danger. Where did that image of wings come from? Popular novelist, Vinita Hampton Wright, answers this and other questions in this illuminating and richly informative guide to angels in Judaism, Christianity, and Islam.
In this intriguing book, you will explore the origin and nature of angels, where they dwell, what they do, and how they relate to humanity. You will discover what the three Abrahamic faiths have to say about fallen angels (or, demons), and also see how doctrine and theology sometimes merge with legend and superstition. A short encyclopedia of terms and names is included at book's end which will enlighten the study of angelic beings in the religions of the world for years to come.
This is the best book available on angels a wildly popular topic that has long deserved the attention of a thoughtful and talented writer like Vinita Hampton Wright. She brings a poet's skill, a scholar's care, and a believer's heart to the heavenly companions whose presence we might sense, but may know little about.
- James Martin, SJ, author of My Life with the Saints
Vinita Hampton Wright has done a wonderful job with a very complex issue: trying to bring Jews, Christians, and Muslims together.
- Laleh Bakhitar, Ph.D.
Advertisement