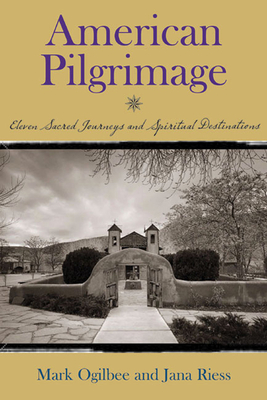 American Pilgrimage
Eleven Sacred Journeys and Spiritual Destinations
Paperback

* Individual store prices may vary.
Description
Americans love to travel, many for vacation and pleasure. Others, however, travel to seek a connection with the spiritual in a particular place; they are on pilgrimage. Although America does not have the wealth of ancient and famous spiritual centers that you'll find in the Holy Land, Europe, or in some other parts of the world, the United States does have vital centers of pilgrimage---with a uniquely American flavor.



In this book, readers will learn the ins and outs of these distinctively American places of spiritual meaning and purpose. Readers will discover everything from a traditional walking pilgrimage to a small adobe chapel in Chimayo, New Mexico, prayers offered at the Shrine of St. Jude in Chicago, jam-packed football stadiums at a Billy Graham Crusade (a pilgrimage that travels to you), Benedictine retreat centers, and other, more uniquely American places such as Graceland and San Juan Capistrano, California. This unique guide explores where, how, and why Americans set out to find the holy in the spiritual landscape that is their own backyard.
Praise For American Pilgrimage: Eleven Sacred Journeys and Spiritual Destinations…
The term "pilgrimage" gets tossed around casually in travel writing, but as this book demonstrates, there is a difference between it and mere tourism: When a pilgrim leaves a destination, it's as a different person. And there's no need to travel abroad -- to Lourdes, for example -- when the humble shrine of St. Jude awaits in Chicago, or a trip to New Mexico will connect you with the "holy dirt" of the Santuario de Chimayo.
Most of the sites described are Christian, but the concept of pilgrimage extends to New Age and Buddhist centers and, with a bit of stretching, Elvis's Graceland. And a Billy Graham Crusade (the pilgrimage that comes to you). Ogilbee and Riess are generally positive about the experience, conceding apparent failures but noting that sometimes the seeking is more important than the finding. While they are definitely "glass is half full" people, if there is another, more cynical take on the pilgrimage process, they'll at least acknowledge it. And, one assumes, pray for the cynic. Jerry V. Haines Washington Post November 26, 2006
A tourist, write the authors of American Pilgrimage, "is all about the destination and what can be obtained there' A pilgrim, on the other hand, aims to go to a place-external or internal-that allows "stepping back, reflecting, and spending time in greater spiritual awareness:' Mark Ogilbee and Jana Riess are both religion scholars and editors (Riess is the religion book review editor at Publishers Weekly.) They take readers along as they visit eleven places of pilgrimage in the United States.
Each site gets a chapter, and chapters are grouped in four thematic sections. Among the places they visit; the National Shrine of Saint Jude in Chicago, the Community of Jesus in Cape Cod, Mission San Juan Capistrano in California, a talk by Zen Buddhist monk and peace activist Thich Nhat Hanh, and a Billy
Graham crusade in Los Angeles (the pilgrimage that travels to you). One surprise; Elvis Presley's Graceland, a place of pilgrimage for many, is also included.
In every case, Ogilbee and Riess present sufficient information about the history of these sites, their setting and feel, and what the visitor can expect. The reader's journey through the graceful depictions of these spirit-filled destinations becomes its own sort of pilgrimage. Chapter notes and suggested resources for further information are included. Monica Tenney Church and Synagogue Library Association November 1, 2006
Riess, author of The Spiritual Traveler and PW's religion book review editor, and writer/editor Ogilbee reveal 11 American hot spots for the spiritually inclined, organized into four themes: healing, hospitality, boundary-crossing and modem "saint" devotionals. From the start, the authors distinguish the tourist-;bound for fixed locales-;from the pilgrim, who plunges into new environs "both external and internal" in the search for self-discovery. The authors' cross-country excursions yield colorful descriptions and keen observations of sites like El Santuario de Chimayo in New Mexico, where a humble hole in the ground purportedly bears restorative mud; the shrine of Sr. Jude, patron saint of hopeless causes, in working-class Chicago; a youthful, vivacious Community of Jesus in Cape Cod; and, of course, Graceland, the quintessential American pilgrimage for throngs of "Presleyterians." With discerning insight, the authors consider what makes their selections uniquely American, beyond physical location: each reflects the "porousness" and flexibility of the country's faith, which embraces an array of rituals, folklore and mysticism that spring from not only traditional religion, but also more secular spirituality and the rhythms of nature. Riess and Ogilbee wisely recognize that the psychology of taking the journey figures as much as the destination, affirming, "Pilgrimage tells us that God is everywhere." Publishers Weekly June 20, 2006<hr>

With gas at an all-time high, it may be time to add a little inspiration to each tankful for this summer's road trip. This book can help the traveler find the spiritual in both traditional and unexpected places.
Phil Anderson Topeka Capital Journal June 17, 2006
This slim, entertaining volume makes clear that some pilgrimages are private, others a communal experience. Some involve distant travel, but as many can transpire in the backyard. Ogilbee and Riess describe pilgrimage as journeying devoted to "reflecting, and spending time in greater spiritual awareness" on the part of "boundary-crossers." The pilgrimages they describe are uniquely American in that, according to them, American religious experience essentially is porous and flexible. Thus, non-Catholics pray at Catholic sites like die National Shrine of St. Jude in Chicago (their example), Christians follow the teachings of Buddhists such as Thich Nhat Hanh, and people from A walks of life and religious faiths walk with nonbelievers to a sanctuary in Chirnayo, New Mexico, on Good Friday in search of restoration of body and spirit. Other sites visited include the Abbey of Gethsemani in Kentucky; Mission San Juan Capistrano in California; the red rock country of Sedona, Arizona; and even Elvis Presley's Graceland in Tennessee. Those drawn to armchair travel laced with spirituality will savor this modest book. June Sawyers Booklist June 15, 2006<hr>
Paraclete Press, 9781557254474, 207pp.
Publication Date: June 1, 2006
About the Author
Since 2008, Jana Riess has been an editor in the publishing industry, primarily working in the areas of religion, history, popular culture, ethics, and biblical studies. From 1999 to 2008, she was the Religion Book Review Editor for Publishers Weekly, and continues to write freelance reviews for PW as well as other publications.

She holds degrees in religion from Wellesley College and Princeton Theological Seminary, and a Ph.D. in American religious history from Columbia University. She speaks often to media about issues pertaining to religion in America, and has been interviewed by the Associated Press, Time, Newsweek, People, the Boston Globe, USA Today, the Los Angeles Times, and Newsday, among other print publications, as well as "Voice of America," the "Today" show, MSNBC, and NPR's "All Things Considered," "Tell Me More," and "Talk of the Nation."

She is the author or co-author of many books, including The Prayer Wheel; Flunking Sainthood; What Would Buffy Do?; Mormonism for Dummies; and The Writer's Market Guide to Getting Published, andThe Next Mormons: The Rising Generation of Latter-day Saints. Her book The Twible: All the Chapters of the Bible in 140 Characters or Less . . . . Now with 68% More Humor! won first place in the non-fiction category in the Writer's Digest Annual Self-Published Book Awards.

She is a senior columnist for Religion News Service.
or
Not Currently Available for Direct Purchase