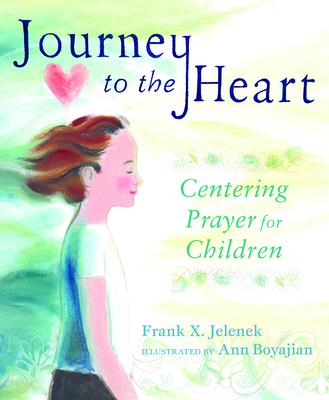 Journey to the Heart
Centering Prayer for Children
Paperback

* Individual store prices may vary.
Description
The first guide to a contemplative prayer practice for children, Journey to the Heart both instructs and inspires.
Centering prayer is a way of opening our whole being to God, beyond thoughts, words, and emotions. It is simple and practical—a way of preparing heart and mind to receive the gift of intimate relationship with God. Jesus said, "When you pray, go to your inner room, close the door, and pray to your Father in secret. And your Father who sees in secret will reward you." (Matthew 6:6) Frank Jelenek shows young children just how to do that! 
The first guide of its kind for children ages 3-10,
Journey to the Heart
:
Draws children into a peaceful, quiet frame of heart with soft and beautiful illustrations
Lovingly instructs and inspires children, their parents, caregivers, and teachers
Introduces children to the joy of communicating with God in this special, intimate way
Makes it easy for children to share in the spiritual nourishment of centering prayer
Features age-appropriate text that provides clear directions and encouragement in simple, fun language
Ideal for ages 3 – 10,
Journey to the Heart
has been declared Nihil Obstat and Imprimatur by William B. Smith, S.T.D., Censor Librorum and Dennis J. Sullivan, Vicar General, Archdiocese of New York.    
Praise For Journey to the Heart: Centering Prayer for Children…
"The nature-centric illustrations are gorgeous, and the rhyming text offers a doorway into the method of Centering Prayer that is age appropriate (and appropriate for all ages). "In every heart there is God's kingdom, a holy place to pray. Your soul is the home of God inside you, each and every day." How I wish I had received this message when I was a child! But like the saying goes, "It's never too late to have a happy childhood" — which means it's never too late to nurture the child within with a hopeful message of God's love and an invitation to silently consent to that love's healing presence within us. So get this book for the children in your life; it will bless them — but be sure to let it bless yourself as well." —Carl McColman, Anamchara.com

"Contemplative prayer would seem to be a discipline more suited to adults than children, but this easily understandable book offers a framework that even primary-schoolers can work within. The book begins by introducing the concept of the soul explaining that a journey to the deepest part of the heart is time to commune with God and Jesus. First, the book suggests choosing a secret word or phrase such as faith, Father, Jesus, or Holy Spirit.Then, it recommends sitting silently, eyes closed, feet on the floor; if others are participating, it suggests placing chairs in a prayer circle. The next step involves saying the secret word silently while resting within. When other thoughts intrude, participants can let them float away during the six moments of silence they are to spend with God. The session ends with the Our Father. The gentle text encourages children, and the attractive, simple pictures, often depicting people at prayer, are done in warm, gentle colors. An unusual, peaceful offering." —Booklist
Paraclete Press, 9781557254825, 32pp.
Publication Date: October 1, 2007
About the Author
Frank X. Jelenek is a member of Thomas Keating's Contemplative Outreach, dedicated to teaching the practice of centering prayer to people of all ages. He works for Scholastic Book Fairs and shares his passion for books and prayer with his grandchildren.

Ann Boyajian is the illustrator of many books, including Samantha's Friendship Fun (in the American Girl series), More Spice Than Sugar (Houghton Mifflin), and O Say Can You See? American's Symbols, Landmarks, and Inspiring Words (Scholastic).