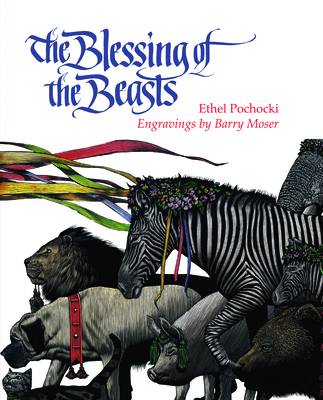 The Blessing of Beasts
Hardcover

* Individual store prices may vary.
Other Editions of This Title:
Paperback (8/1/2014)
Description
As a young roach, Francesca was warned against churches:
Her mother had told her there was no reason to visit such a place. Churches were disgustingly clean, barren of food, although sometimes you might find leftover rice from weddings under the pews, and they were dangerous.
Francesca and Martin, a skunk, originally met in a trash can awhile back:
He had startled her by rising from the garbage, wearing a cap of coleslaw and a mustache of yogurt.
"Good evening, Miss," he said, remembering his manners. "My name is Martin. After the saint, Martin de Porres. My mother favored him. His statue was in the garden where we ate, so she named me, her firstborn, after him."
As the Celebration of Creatures service approaches, Francesca yearns to be there, but Martin warns her against it:
"I don't think that we are meant to be included, Francesca. It's for the respectables, the cute and cuddlies. We are outcasts, my dear. They'll never let us in. Can't you just hear the humans shrieking as we walk down the aisle? They'd be fainting left and right."
Francesca and Martin find a creative way into the church—and what a sight they see! Kids and adults alike will treasure this new story about the value of all creatures, and will learn anew that all of creation has value, purpose, and God's blessing.
Praise For The Blessing of Beasts…
Each year at the Cathedral Church of St. John the Divine in New York City, there is a "blessing of the animals" service. Pochocki turns this event into a delightful fantasy, starring a skunk and a cockroach. When news of the service filters downtown, roach Francesca asks skunk Martin if she can hitch a ride to the church. Martin is unsure. The trip is dangerous, and they will be outcasts. But as "there's more to life than garbage," they head out, dodge a few dangers, and are carried into the church with the flowers. There, a circus elephant curls them in its trunk and heads to the alter so they can be blessed. Cats and dogs are the usual celebrants at the real service; here they are joined by lions, bears, and falcons. This menagerie gives illustrator Moser a change to step outside the bounds of human portraiture and have fun with animals. Funny, sly, and noble, the animal pictures range from amusing takeoffs to moving tributes. A welcome additon to religion shelves. >Booklist >October 2007

Francesca the cockroach and her good friend Martin the skunk, whom she met some time ago in a trash can, live in a soup kitchen on the poor side of town. When three uptown roaches bring word of a blessing of the animals to be held at the cathedral across town, Francesca decides that she and Martin should go. (She was after all, named after Francis the good human, who loved the unlovable). The lowly but determined friends manage to cross town - Francesca in Martin's left ear - and join all manner of creatures great and small for a glorious celebration and blessing. Ethel Pochocki is the author of several previous children's books and is a former librarian at the New York Public Library. Engravings by Barry Moser are almost haunting in their beauty, even - and maybe especially - the ones of the animal outcasts. Both text and pictures are witty and elegant. Readers of any age will be reminded that God's love is for all, even the least of these. >Congressional Libraries Today >March 2008<hr>
Paraclete Press, 9781557255020, 40pp.
Publication Date: May 1, 2007
About the Author
Ethel Pochocki is the author of several other books for children and adults, including Once Upon a Time Saints.