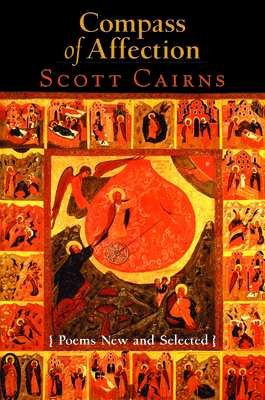 Compass of Affection
Poems New and Selected (Paraclete Poetry)
Hardcover

* Individual store prices may vary.
Description
In this provocative collection, rich with expression and dense with meaning, Scott Cairns expresses an immediate, incarnate theology of God's power and presence in the world.  Spanning thirty years and including selections from four of his previous collections,
Compass of Affection
illuminates the poet's longstanding engagement with language as revelation, and with poetry as way of discovery.   For those who already admire the poetry of Scott Cairns and for those who have yet to be introduced, this essential volume presents the best of his work – the holy made tangible, love made flesh, and theology performed rather than discussed.
Praise for Scott Cairns' work
 "Scott Cairns [is] perhaps the most important and promising religious poet of his generation." —
Prairie Schooner
"The voice of Cairns is conversational and coaxing—confiding in us secrets that seem to be our own." —Publishers Weekly
Praise For Compass of Affection: Poems New and Selected (Paraclete Poetry)…
"Cairns's warm, calm, personal tones win him respect in many quarters, but his core audience comes from his subject matter: the mysteries, consolations and consequences of Christian belief. Questions about how to live as a Christian, how to understand such theological concepts as eros and agape, as sacrifice and resurrection, give depth and seriousness to his verse. Familiarity not only with New Testament texts but with the Church Fathers, their methods of exegesis and sometimes parallel questions from Jewish Learning give Cairns a range of allusion and launching pads for his poems, as in the winning series 'Adventures in New Testament Greek.' A poem from his first collection, The Theology of Doubt (1985), explores 'the sober forms / of worship, the forms love rakes// when the mind is rested'. Late Apocalypse, one of the 27 new poems, begins, 'Blessed is anyone who reads much of anything, blessed / and most unusual.' That poem, among his best, rises into a serious condemnation of our consumer-driven world. More often Cairns seeks compassionate ways to apply the lessons of theologians or of Christ to his own life; one does not need to be Christian, or even religious, to profit from what he finds." —Publisher's Weekly 

"Scott Cairns (b. 1954), the Catherine Paine Middlebush Chair in English at the University of Missouri, has won numerous awards for his dozen of poetry, memoir, essays, and translations. This book is no longer 'new,' but that's besides the point. It collects 85 poems from four of Cairns' previous books from 1985 to 2006. Cairns is a convert to Eastern Orthodoxy, and that spiritual passion is evident in his poetry. These poems challenge both mind and heart. He's also a savvy social critic. Readers can decide for themselves, and there's no accounting for personal taste, but Annie Dillard graces the dust jacket of this book with this blurb: 'Scott Cairns is one of the best poets alive.' Among Cairns' many other books, reader might also enjoy Idiot Psalms: New Poems (2014), a collection of 53 new poems; and Endless Life; Poems of the Mystics (2007, 2014), which includes 116 'adaptations and translations' (paraphrases?) of the writings of 37 Christian mystics." —Journey With Jesus
Paraclete Press, 9781557255037, 148pp.
Publication Date: August 1, 2006
About the Author
Librettist, essayist, translator, and author of nine poetry collections, Scott Cairns is Professor of English and Director of the Low-Residency MFA Program at Seattle Pacific University. His poems and essays have appeared in Poetry, Image, Paris Review, The Atlantic Monthly, The New Republic, and both have been anthologized in multiple editions of Best American Spiritual Writing. He received a Guggenheim Fellowship in 2006, and the Denise Levertov Award in 2014.