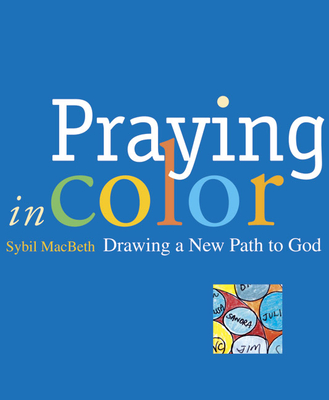 Praying in Color
Drawing a New Path to God (Active Prayer Series)
Paperback

* Individual store prices may vary.
Other Editions of This Title:
Paperback (12/16/2019)
Paperback (4/1/2013)
DVD video (12/1/2016)
Paperback, Spanish (6/1/2011)
Description
Connect the Spiritual and Color!

"Just as Julia Cameron, in The Artist's Way, showed the hardened Harvard businessman he had a creative artist lurking within, MacBeth makes it astonishingly clear that anyone with a box of colors and some paper can have a conversation with God." —Pubishers Weekly

Need help communicating with God? Maybe you hunger to know God better. Maybe you love to doodle. Maybe you are a visual or kinesthetic learner, a distractable or impatient soul, or a word-weary pray-er. Perhaps you struggle with a short attention span, a restless body, or a tendency to live in your head. Praying in Color is a guidebook for a new way of approaching prayer, not a coloring book. Draw your own path to God, doodling your prayer requests, moments of gratitude, Scripture study and more.

This prayer form can take as little or as much time as you have or want to commit, from 15 minutes to a weekend retreat. "A new prayer form gives God an invitation and a new door to penetrate the locked cells of our hearts and minds," explains Sybil MacBeth. "For many of us, using only words to pray reduces God by the limits of our finite words."

For more information, including author events, examples and contact information to request Sybil MacBeth to do a workshop, visit www.prayingincolor.com.

Use Praying in Color to help with:
• lectio divina
• memorizing Scripture
• prayers for discernment
• creating a personal Advent or Lenten calendar
Praise For Praying in Color: Drawing a New Path to God (Active Prayer Series)…
"Just as Julia Cameron, in The Artist's Way, showed the hardened Harvard businessman he had a creative artist lurking within, MacBeth makes it astonishingly clear that anyone with a box of colors and some paper can have a conversation with God. Frustrated by a laundry list of what she calls 'prayer dilemmas,' and the unfortunate situations of more than half a dozen friends and family members on her 'critical prayer list,' MacBeth, a math professor by trade, spent an afternoon doodling before she realized she'd in fact spent the afternoon in prayer. As she takes particular care to emphasize, this method most effective for intercessory prayer, but adaptable for other approaches requires absolutely no skill, merely a desire to connect with God...Amid gentle personal anecdotes, MacBeth illustrates each step of the process, providing not just instruction but inspiration by sharing her own prayer pages as well as those of her students. She even includes a chapter on using one's computer for the process. Readers of all ages, experience and religions will find this a fresh, invigorating and even exhilarating way to spend time with themselves and their Creator." —Publisher's Weekly Starred Review

"Dancer and mathematics instructor MacBeth's charming book may be the first to combine the pleasures of doodling with a discussion of, among other things, lectio divina. Here, she shows how simple drawings—often hardly more than circles and lines with names or ideas or places sketched in and enlivened with color—can focus the praying heart, making prayer something better than a shopping list or a chore and helping the praying believer to carry the wishes and thoughts of the prayer through the day. MacBeth's book is not for unbelievers or those who do not pray; it is directed to those suffering something more like spiritual attention deficit disorder. Still, it is one of the most appealing books on prayer to appear in the last five years. Highly recommended."—Library Journal

"Sybil MacBeth, a mathmatics instructor by profession, and dancer by avocation, has written, and doodled, a daring devotional. Praying In Color: Drawing a New Path to God chronicles her 'experiments in intercession and challenges readers to take pens and paper in hand and, well, intercede. Although the daughter and granddaughter of artists, MacBeth was convinced by her own ugly artwork that something 'had gone awry in the tossing of the genetic salad.' Her point: The absence of skill presents no barrier to an individual's discoveries linking doodling and prayer. That's because prayer involves trust and being real before God...Her book contains balloons, labyrinths, vegetables, clovers, triangles, kites, quilts, calendars with prayer requests and names, and purposefully shaped squiggles. She recommends 15 to 30 minutes for the process, half spent in drawing and the other half in carrying the visual memories or actual images throughout the day. Instead of being a prayer warrior, she calls herself 'a prayer popper,' one who prays in fits and spurts with 'half-formed pleas and intercessions, and bursts of gratitude and rage.' MacBeth is transparent, accessible, and human. She exercises what she calls spiritual imagination as she works on, in, and through prayer. She trusts herself enough to experiment, mess up, and try again in prayer. She trusts God enough to guide her as she falters, succeeds, and grows stronger. Her book emboldens others to trust their instincts, too." —Robin Gallaher Branch, Professor of Biblical Studies, Crichton College
Paraclete Press, 9781557255129, 110pp.
Publication Date: April 1, 2007
About the Author
Sybil MacBeth is the author of Praying in Color: Drawing a New Path to God (2007) and Praying in Color Kids' Edition (2009). Praying in Color uses doodling and coloring as a way to get still and listen to God. Sybil combines her lifelong love of prayer with her experience as a community college mathematics professor to offer workshops and retreats throughout the U.S. and Canada. Her workshops, both prayerful and playful, engage people of varied learning styles. Sybil is married to Andy MacBeth, an Episcopal priest, and is the mother of two adult sons.
or
Not Currently Available for Direct Purchase