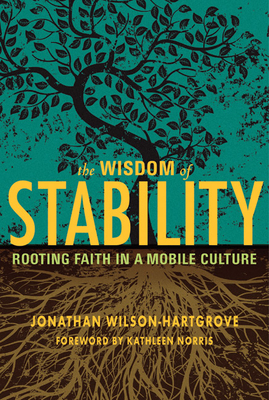 The Wisdom of Stability
Rooting Faith in a Mobile Culture
Paperback

* Individual store prices may vary.
Description
Discussion around the bestseller The Benedict Option by Rod Dreher has led many people to want to know more about Benedictine principles.

In an age where we might email a friend in Africa, Skype a co-worker in Brazil, and teleconference with people in different time zones–all in one day–the sheer speed of life can be dizzying. Like children stumbling off a merry-go-round, says Jonathan Wilson-Hartgrove, we are grasping for something to anchor our lives in a sea of constant change.

In The Wisdom of Stability, Wilson-Hartgrove illuminates the biblical and monastic understanding of why staying in one place is both a virtue and good for you. "For the Christian tradition," he writes, "the heart's true home is a life rooted in the love of God." When we cultivate an inner stability of heart – by rooting ourselves in the places where we live, engaging the people we are with, and by the simple rhythms of tending to body and soul – true growth can happen. The Wisdom of Stability is a must-read for pastors, leaders, and anyone seeking an authentic path of Christian transformation.

​​"In whatever place you live, do not easily leave it." –Abba Anthony
Praise For The Wisdom of Stability: Rooting Faith in a Mobile Culture…
"Stability may be the virtue that 21st-century Christians most ignore---and the virtue we are most called to embrace. This fine book will inspire you to look at your own life, asking, 'Where am I restless? Where might God be calling me to be rooted, to stay put?" —Lauren Winner, author of Mudhouse Sabbath and Girl Meets God

"Jonathan speaks out like the prophets of old, and calls us into an alternative lifestyle." —Tony Campolo, Professor Emeritus, Eastern University
Paraclete Press, 9781557256232, 164pp.
Publication Date: May 1, 2010
About the Author
Jonathan Wilson-Hartgrove is a leader of the new monastic movement and co-founded the Rutba House community in Durham, North Carolina. An associate minister at St. John's Baptist Church in Durham, he also directs the School for Conversion, a partnership among new monastic communities for alternative theological education. His other books include Becoming the Answer to Our Prayers, New Monasticism, and God's Economy. www.jonathanwilsonhartgrove.com