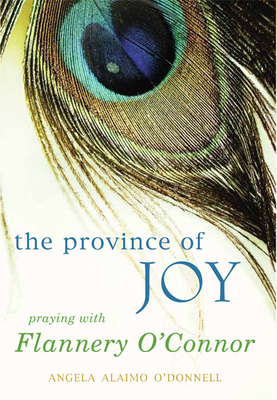 The Province of Joy
Praying with Flannery O'Connor
Paperback

* Individual store prices may vary.
Description
"Like a beautiful quilt, Province of Joy is a deeply loving, imaginative work of art and faith." –Elizabeth A. Johnson
 This unique "Book of Hours" is modeled on the spiritual life and prayer practices of one of our most interesting writers.

"Flannery O'Connor's stories help us see grace in the most difficult of circumstances. O'Donnell artfully combines selections from her writings with daily prayers and readings for something wonderful: a prayer book that is old and new, timely and timeless, comforting and provocative." –James Martin, SJ, author of Between Heaven and Mirth
Praise For The Province of Joy: Praying with Flannery O'Connor…
"Many people consider Flannery O'Connor the best short-story writer of the twentieth century...However when studying her work, Flannery's faith is often ignored. She was a devout Catholic who loved the Sacraments, studied the Summa, and prayed each day. Her faith clearly grounded her stories, inspiring themes like redemption, the surprise of grace, and the horror of sin. While a small handful of books probe her spirituality, fewer if any explore her personal prayer life. This makes Angela Alaimo O'Donnell's book, The Province of Joy: Praying with Flannery O'Connor, a welcome contribution. A poet and English professor at Fordham University, O'Donnell has written a book which is less biography and more 'prayer book.' It's structured like a 'Book of Hours,' with morning and evening prayers for seven different days. Each day carries a theme, such as 'The Christian Comedy', 'Blindness and Vision', and 'Facing the Dragon.' Each also has a Gospel meditation, prayers from the Divine Office, a passage excerpted from Flannery's writings, and some closing reflections from O'Donnell herself...You'll pray with Flannery, contemplate her words, and eventually emerge with 'deeper and stranger visions'—visions that both comfort and provoke." —Brandon Vogt, author of Why I Am Catholic (And You Should Be Too)
Paraclete Press, 9781557257031, 160pp.
Publication Date: May 1, 2012
About the Author
Angela Alaimo O'Donnell, Ph.D., is a writer, poet, and professor. She teaches English, Creative Writing, and courses in Catholic Studies at Fordham University in New York City and serves as Associate Director of Fordham's Curran Center for American Catholic Studies. She is also co-editor of the Curran Center's new book series, "Studies in the Catholic Imagination: The Flannery O'Connor Trust Series," published by Fordham University Press.