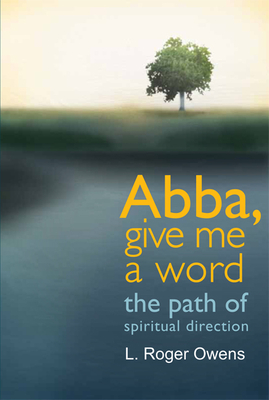 Abba, Give Me a Word
The Path of Spiritual Direction
Paperback

* Individual store prices may vary.
Description
"I challenge you to get through a chapter of this book without a desire for God being struck in your soul. Roger Owens wears his brilliance lightly and loves words tenderly and lavishly in these pages. He is ferociously gifted, and fast becoming one of the abbas to whom the reading church often turns for a word from the Lord." —Jason Byassee, senior pastor of Boone United Methodist Church and Fellow in Theology & Leadership at Duke Divinity School

With a style and warmth of presentation that will remind readers of Henri Nouwen's most popular work, Abba Give Me a Word interweaves the author's personal stories of struggle – and transformation – with reflections on the history and purpose of spiritual direction. The result is a wise introduction to an ancient art and practice of "soul care" – directed at Christians of all backgrounds.
Praise For Abba, Give Me a Word: The Path of Spiritual Direction…
"This unusual book maps the experiences Owens has as a 34 year old receiving spiritual direction from Larry, a retired Baptist preacher. The reason? Owens had 'a longing for God and for someone who could show me how to love God.'" —Frederic and Mary Ann Brusset, Spirituality & Practice: Resources for Spiritual Journeys

"Owens is clear that he is not writing a how-to book on giving spiritual direction, but rather receiving it.  Ultimately, this is what attracted me most to this book.  I was immediately drawn into the story of a search – a quest really – of a man much like me trying to discover more about himself, God, prayer, and living 'in the house of God's love.' That quest leads him to learn all he can about the history of spiritual direction." —Mike Bishop, Englewood Review of Books
Paraclete Press, 9781557257994, 176pp.
Publication Date: March 1, 2012
About the Author
L. Roger Owens (PhD Duke University) is the co-pastor, together with his wife Ginger Thomas, of Duke Memorial United Methodist Church, Durham, North Carolina.