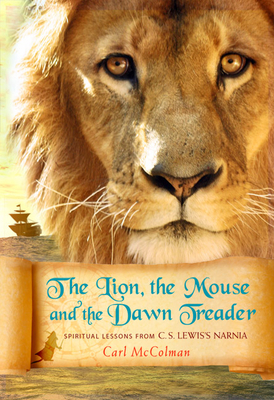 The Lion, the Mouse, and the Dawn Treader (Paperback)
Spiritual Lessons from C.S. Lewis's Narnia
Paraclete Press (MA), 9781557258878, 120pp.
Publication Date: September 25, 2015
Description
From the author of the new BIG BOOK OF CHRISTIAN MYSTICISM comes an engaging look at how the principles and practices of Christian mysticism are illustrated in C. S. Lewis's Narnia series. Releasing to time with the third film in the blockbuster Narnia series-The Voyage of the Dawn Treader-December 10, 2010 The Lion, The Mouse and The Dawn Treader shows the reader how C. S. Lewis was guided by two "templates" in writing Dawn Treader: first, an ancient Celtic folktale known as the immram, or wondrous sea-voyage, in which great saints like Brendan the Navigator sought to reach paradise itself. But on another level, Lewis also built his adventure story around the traditional stages of the Christian life: from initial resistance to God's grace, to discovering how sin enslaves us and "turns us into dragons," to experiencing both the relief found in Christ and the cleansing waters of baptism. From this period of purgation the story turns to the illuminating adventures of resisting further temptation, to exploring silence (and learning how to deal with distractions, or "Dufflepuds"), to a final terrifying journey to the "Island of Darkness" (the dark night of the soul). The final stage of union begins with a Eucharistic feast at Aslan's Table where an ancient star and his lovely daughter sing joyfully every morning. As the Dawn Treader sails beyond where the stars sing, the travelers find a world of wonders, characterized by light, and clarity, and finally the encounter with Aslan - Christ - himself. This book will delight fans of C. S. Lewis with new insights into one of his classic stories, and will also help the more casual reader (and movie-goer) to understand the rich meaning behind this charming children's adventure. The Lion, The Mouse and The Dawn Treader is an amazing, thoroughly inspiring adventure. The Narnia stories are not just for children, but if you want help to assist children (or anyone) to understand their depth, read this book You can touch the whole journey of the Christian search for God - and likely be spurred toward renewal in your own life - by getting on this Narnian ship. - Trina Paulus, author of Hope for the Flowers.
About the Author
Carl McColman is also the author of "The Big Book of Christian Mysticism" and the popular blog The Website of Unknowing (www.anamchara.com.) He lives near Atlanta.
Praise For The Lion, the Mouse, and the Dawn Treader: Spiritual Lessons from C.S. Lewis's Narnia…
"Buried within many of C.S. Lewis's children's books are timeless messages about the Christian faith. McColman reveals how Lewis's fascinating adventure can help us more fully understand spiritual insights from not only Jesus himself, but also some of the great saints and mystics. By turns playful, provocative and profound, McColman asks us to 'become like little children' in order to understand some very adult lessons."  ---James Martin, SJ, author of The Jesuit Gudie to (Almost) Everything
"The Lion, the Mouse and the Dawn Treader is an amazing, inspiring adventure. The Narnia stories are not just for children, but if you want help to assist children (or anyone) to understand their depth, read this book! You can touch the whole journey of the Christian search for God---and likely be spurred toward renewal in your own life---by getting on this Narnia ship." ---Trina Paulus, author of Hope for the Flowers
Advertisement