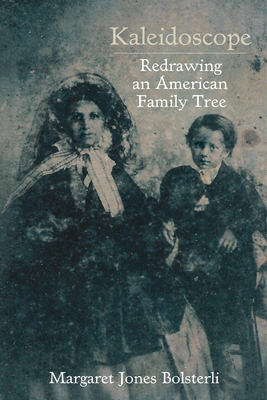 Kaleidoscope (Paperback)
Redrawing an American Family Tree
University of Arkansas Press, 9781557288158, 140pp.
Publication Date: February 25, 2015
* Individual store prices may vary.
Description
In 2005 Margaret Jones Bolsterli learned that her great-great-grandfather was a free mulatto named Jordan Chavis, who owned an antebellum plantation near Vicksburg, Mississippi. The news was a shock; Bolsterli had heard about the plantation in family stories told during her Arkansas Delta childhood, but Chavis's name and race had never been mentioned. With further exploration Bolsterli found that when Chavis's children crossed the Mississippi River between 1859 and 1875 for exile in Arkansas, they passed into the white world, leaving the family's racial history completely behind.

Kaleidoscope is the story of this discovery, and it is the story, too, of the rise and fall of the Chavis fortunes in Mississippi, from the family's first appearance on a frontier farm in 1829 to ownership of over a thousand acres and the slaves to work them by 1860. Bolsterli learns that in the 1850s, when all free colored people were ordered to leave Mississippi or be enslaved, Jordan Chavis's white neighbors successfully petitioned the legislature to allow him to remain, unmolested, even as three of his sons and a daughter moved to Arkansas and Illinois. She learns about the agility with which the old man balanced on a tightrope over chaos to survive the war and then take advantage of the opportunities of newly awarded citizenship during Reconstruction. The story ends with the family's loss of everything in the 1870s, after one of the exiled sons returns to Mississippi to serve in the Reconstruction legislature and a grandson attempts unsuccessfully to retain possession of the land. In Kaleidoscope, long-silenced truths are revealed, inviting questions about how attitudes toward race might have been different in the family and in America if the truth about this situation and thousands of others like it could have been told before.
About the Author
Margaret Jones Bolsterli grew up on a cotton farm in the Arkansas Delta during the Great Depression. She is the author or editor of six previous books.
Praise For Kaleidoscope: Redrawing an American Family Tree…
"Margaret Bolsterli has written a family history that tells as much about the nation and the place of race within it as it does about Bolsterli's family.  Perhaps the most surprising and breathtaking story concerns the branch of the family that changed its destiny by crossing the Mississippi River into Arkansas and re-inventing itself as white rather than black.  This well-written and insightful narrative is a timely addition to the American drama."
—Jeannie Whayne, author of Delta Empire and co-author of Arkansas: A Narrative History
"Only William Faulkner could have written a novel capturing the drama and haunting turns in life that Margaret Bolsterli details in her biography of Jordan Chavis, her free black great-great grandfather. This book is well-researched and a riveting read.  Bolsterli's eloquent questions about why she was not told about Jordan Chavis raise wrenching issues that resonate with other families who have been cut from their roots by silence."
—Elizabeth Payne, editor of Mississippi Women
"This is a genre of family history as old as America but one that is almost never told out loud. Ms. Bolsterli discovered in her advancing years that she was not who she thought she was—a child of white privilege from the Arkansas delta. Kaleidoscope tells the story of a new identity that began long ago on a plantation in Mississippi, and it elucidates much about the cradle of so much of America's racial confusion."
—Roy Reed, author of Beware of Limbo Dancers
"Given the importance of the subject, the honesty with which it is told, and the quality of the prose, Kaleidoscope's value as a memoir about the South can hardly be overstated."
—Arkansas Historical Quarterly, Autumn 2015