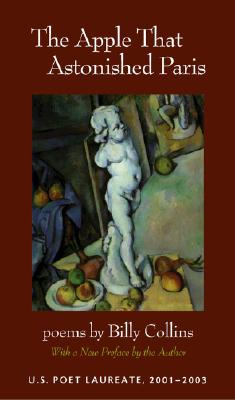 The Apple That Astonished Paris
Poems
Paperback

* Individual store prices may vary.
Description
Bruce Weber in the New York Times called Billy Collins "the most popular poet in America." He is the author of many books of poetry, including, most recently, The Rain in Portugal: Poems.
In 1988 the University of Arkansas Press published Billy Collins's The Apple That Astonished Paris, his "first real book of poems," as he describes it in a new, delightful preface written expressly for this new printing to help celebrate both the Press's twenty-fifth anniversary and this book, one of the Press's all-time best sellers. In his usual witty and dry style, Collins writes, "I gathered together what I considered my best poems and threw them in the mail." After "what seemed like a very long time" Press director Miller Williams, a poet as well, returned the poems to him in the "familiar self-addressed, stamped envelope." He told Collins that there was good work here but that there was work to be done before he'd have a real collection he and the Press could be proud of: "Williams's words were more encouragement than I had ever gotten before and more than enough to inspire me to begin taking my writing more seriously than I had before."
This collection includes some of Collins's most anthologized poems, including "Introduction to Poetry," "Another Reason Why I Don't Keep a Gun in the House," and "Advice to Writers." Its success over the years is testament to Collins's talent as one of our best poets, and as he writes in the preface, "this new edition . . . is a credit to the sustained vibrancy of the University of Arkansas Press and, I suspect, to the abiding spirit of its former director, my first editorial father."
Praise For The Apple That Astonished Paris: Poems…
"Using simple, understandable language, Collins captures ordinary life--its pleasure, its discontents, its moments of sadness and joy."--USA Today "Billy Collins writes lovely poems. . . . Limpid, gently and consistently startling, more serious that they seem, they describe worlds that are and were and some others as well."--John Updike
University of Arkansas Press, 9781557288233, 74pp.
Publication Date: February 1, 2006
About the Author
Billy Collins is Distinguished professor of English at Lehman College of the City University of New York. He was appointed poet laureate of the United States for 2001–2003 and is currently the poet laureate of New York State. He is the author of eight collections of poetry including his latest, The Trouble with Poetry.