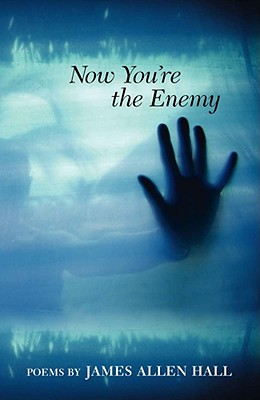 Now You're the Enemy (Paperback)
Poems
University of Arkansas Press, 9781557288646, 70pp.
Publication Date: January 1, 2008
* Individual store prices may vary.
Description
2009 Texas Institute of Letters Poetry Award; Finalist for the 2008 Independent Booksellers' Foreword Magazine Book of the Year Award; co-winner in the gay poetry category from Lambda Book Awards.

A family in the aftermath of violence These raw and powerful poems have at their heart the charged, archetypal figure of the mother. Conflicted by the twin desires of self-destruction and self-preservation, this mother is both terrible and beautiful. This compassionate, nervy collection of poems shows a family in the aftermath of violence. James Allen Hall explores themes of loss, the intersection of grief and desire, and the ways in which history, art, and politics shape the self. We meet the speaker's mother in many guises-she is the rogue Republic of Texas, the titular character of Rosemary's Baby, a nineteenth century artist's model, a fake entry in an encyclopedia, the lost queen of King Lear. With clarity, wit, and compassion, the speaker discovers the facets of his mother-her own abuse, her years of adultery, her struggle to remain independent-so that he may come to terms with his own sexuality. By seeing his mother in these guises, the speaker understands identity as it develops along and is reclaimed from the most repressive of social margins. Hall's poems twine the autobiographical impulse with a deeper emotional, somewhat surreal, temperament. This is a book as much about the way we tell our stories as it is about the stories we tell. Now You're the Enemy negotiates narrative in order to refashion the self-as a way to survive, to learn the redemptive power of love.
About the Author
James Allen Hall is assistant professor of English at Bethany College in West Virginia. Now You're the Enemy was a finalist for the Walt Whitman Book Award and a semifinalist for the Crab Orchard/Open Competition Book Award. He's the recipient of an Academy of American Poets Prize and three Pushcart Prize nominations.
Praise For Now You're the Enemy: Poems…
"From the 'unspeakable cliffs' that govern the landscape of damage (both physical and psychological) and of a belief in a life past that-a belief in rescue-James Allen Hall has looked into those spaces 'where love is / only love if it makes you bleed.' And from what he has found there, he has crafted these riveting poems, by turns searing and forgiving, iconoclastic and-unexpectedly, as if in spite of themselves-sacred. Now You're the Enemy is a stirring, triumphant debut." —Carl Phillips, author of Quiver of Arrows: Selected Poems, 1986-2006 "James Hall is possessed by the family romance, in particular the figure of a difficult mother who looms on his imaginative stage. 'I was,' he writes, 'mothered into art.' And then some: Hall's poems are psychically charged, nervy, both measured and fevered, compassionate and outrageous, and alive to the very core." —Mark Doty, author of Fire to Fire: New and Selected Poems "Now You're the Enemy is a brilliant exploration of the structure of feeling. This debut collection, in an astonishing sleight of hand, inflates representation in order to deflate the inner screen that provides both the darkness and the monsters." —Claudia Rankine, editor of American Poets in the 21st Century: The New Poetics
or
Not Currently Available for Direct Purchase