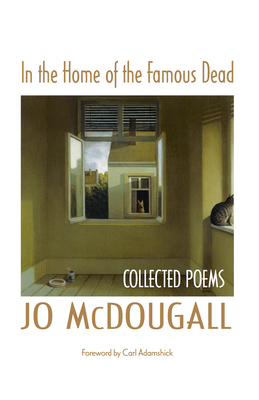 In the Home of the Famous Dead (Paperback)
Collected Poems
University of Arkansas Press, 9781557289117, 350pp.
Publication Date: April 1, 2015
* Individual store prices may vary.
Description
In the Home of the Famous Dead will appeal to newcomers as well as to avid followers of Jo McDougall's long career and complex work, providing valuable insights to the development of a poet's signature, inimitable style. This collection presents work known for its sparse, compact language; surprising metaphor; humor; irony; idiomatic speech; and a stoic, sadly earned wisdom concerning death and loss. In McDougall's world, folks making do with what they have take the stage to speak of, in the words of one critic, "the tangled mysteries of their faltering lives." Her work has been described as having "excruciating honesty" (Gerald Stern), giving voice to the "ineffable emotions of plain people" (Judith Kitchen). Miller Williams notes that the work has "cleanness and clarity . . . in all the funk and smell of humanity." This is the poetry of midwestern plains and southern botttomlands, of waitresses and professors, farmers and bankers, the disadvantaged and privileged alike. Often beginning in the personal and expanding to the universal, this poet takes note of the phenomenological world with a mixture of joy, despair, and awe, providing a haunting look at the cosmic irony of our existence. McDougall's style is indescribable, yet wholly accessible. As Kelly Cherry notes, "Call it magic, call it art; either way [Jo McDougall's work] is something like a miracle."
About the Author
Jo McDougall lives in Little Rock. She is the author of five books of poetry and the memoir Daddy s Money."
Praise For In the Home of the Famous Dead: Collected Poems…
"In In the Home of the Famous Dead, we note Jo McDougall's alignment with storytellers, with her ear for dialect and a heart for the cadences and tics of human behavior. She lives in a family tracing back in our literature through Eudora Welty, Robert Frost, and Mark Twain. This collection is a box of jewels, each polished to its own shine. Here even a button or a "cracked comb" can signify the weight of a whole life, its loves, its crazy amusements, its resident grief. McDougall writes poetry as if language has meaning. It's her gift, brilliant, humane, mournful, and wise. 'Here is a book,' as she writes, 'with all the letters of our names.'"
—David Baker
"In the Home of the Famous Dead proves Jo McDougall the reigning virtuoso of the small lyric in English, able to capture deep human emotion and knowledge in very few words. Here's "Visiting My Daughter": "For weeks / I visited every day, / drawn to that fresh rise,  / the blister of her grave." The poem seems intent on delivering a happy ending but then death comes. The story of all our lives. Again and again, throughout these twenty-seven years of poems, McDougall delivers unsentimental truths in exceedingly well-written poems like jewels or small clockworks. Brava, Jo. Read this book friends."
—North American Review, Summer 2015
"Masterful carvings of narrative imagery…. There isn't another poet writing today who produces this combination of narrative depth, imagistic punch, and compressed language."
—New Letters, Vol. 82 No. 1
or
Not Currently Available for Direct Purchase