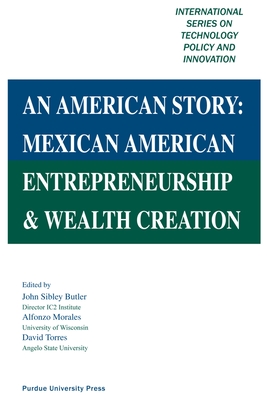 An American Story
Mexican American Entrepreneurship & Wealth Creation (International Series on Technology Policy and Innovation)
Hardcover

* Individual store prices may vary.
Description
In an atmosphere where the Mexican American population is viewed in terms of immigrant labor, this edited book examines the strong tradition of wealth creation and business creation within this population. In the introduction, readers are presented with enterprises such as Latin Works and Real Links, which represent large, successful, and middle-size businesses. Chapters span research methods and units of analysis, utilizing archival data, ethnographic data, and the analysis of traditional census data to disaggregate gender and more broadly examine questions of business formation. From the chapters emerges a picture of problems overcome, success, and contemporary difficulties in developing new businesses. Analysis reveals how Mexican American entrepreneurs compare with other ethnic groups as they continue to build their ventures. This work is a refreshing alternative to books that focus on the labor aspects of the Mexican American experience. Contributors reveal the strong history of self-help and entrepreneurship of this population.
Praise For An American Story: Mexican American Entrepreneurship & Wealth Creation (International Series on Technology Policy and Innovation)…
This edited volume seeks to provide a counterpoint to the conventional perception of Mexican migration to the United States. It points to the heterogeneity and diversity of the Mexican American economic experience, which extends far beyond low-skill wage work. By bringing data, analysis, and narratives to illustrate its themes of entrepreneurship and wealth creation, the volume makes a welcome if uneven con- tribution to scholarship in immigration and entrepreneurship.
The eight chapters that constitute the volume, along with the editors'
introduction and conclusion, were originally presented at a conference held at the University of Texas and sponsored by the Kauffman Foundation in 2008.
The authors span several disciplines, including management, economics, sociology, history, anthropology, and planning. This multidisciplinary perspective is one ofthe book's strengths. The reader sees the essential complexity of the subject by being required to view it from a variety of angles, qualitative as well as quantitative.
In other ways, however, the multiplicity of the authors' approaches in the book creates interpretive challenges. For instance, some chapters do not focus on Mexican Americans but rather on broader groupings such as Hispanics and Latinos. Not all even break Mexican Americans out from these broader groupings to provide a comparative perspective. The time periods of fieldwork in the chapters varies as well, from the early 1990s to the mid-2000s, and there is also a historical chapter on the 1940s. The reader is thus dealing with a moving object as well as a complex one.
Half of the chapters rely on large-n samples for their data, typically from the U.S. Census Bureau. One key value of these four chapters is to provide baseline descriptive data on the phenomenon of Mexican American (or Latino/a or Hispanic) entrepreneurship. The chapters display a particular interest in gender issues, which have often been overlooked in the study of minority, ethnic, and immigrant entrepreneurship.
David L. Torres's chapter (chapter 1) compares Mexican Americans with other Latino groups..The contrast with Cuban Americans is particularly important to him, because this group has been the empirical focus of Alejandro Partes, one  of  the  intellectual  leaders  in  this field  of  research.
While Torres finds some parallels between the Mexican American and O:tban American experiences--for instance, some rich Mexicans fled their revolution and brought their human, social, and financial  capital  to the United States, just as their Cuban counterparts did several decades later- his emphasis is on the divergences. Mexican Americans are less likely to be self-employed than Cuban Americans. Moreover, for Latinos in general, "in terms of competing for professionals, the self-employed sector clearly falls in the  shadow  of  the  public  sector  and  is  falling  further behind"
(p. 26). He concludes with a call for an organized effort to redress this trend.
The  chapter  by  Alberto  Davila  and  Marie  T.  Mora (chapter 3), which focuses more sharply on Mexicans than does Torres's chapter, provides further depth. It reaches the counterintuitive finding that the economic premium for English proficiency, especially among recent immigrants who are self-employed, has been declining in recent years. The authors speculate that this trend may reflect the sheer scale of the Spanish language community in the United States, which can be served without knowing English very well. If this interpretation is correct, however, it also points to limits to the entrepreneurial opportunities that these immigrants can pursue. They conclude with an argument for the importance of "linguistic pluralism" (p. 74) in a globalized economy.
Magnus Lofstrom and Timothy Bates (chapter 4) study female Hispanic entrepreneurs nationwide. Their chapter is intended primarily to provide baseline data about this understudied group. Their major finding is that these women have extremely varied experiences as entrepreneurs. On average, self-employment  pays better than wage work, as economists would expect, but not always. Compared to non- Hispanic females, the group studied by Lofstrom and Bates is less entrepreneurial.  But, they point out, this deficit is more than accounted for by the differences in education between the two groups. Once this factor is controlled for, female Hispanic entrepreneurs do better than female non- Hispanic entrepreneurs.
Zulema Valdez's chapter (chapter 8) on Mexican American entrepreneurs in the Southwest provides further insights into
224      journal   of Planning  Education  and Research 3 I (2)
the gender issues. She finds females in this group to be doing poorly relative to males. While a "small  and elite subset" (p. 189) of Mexican American men are not just thriving as entrepreneurs but breaking into the mainstream economy, female Mexican American entrepreneurs are not experiencing these opportunities. In part, these differences reflect the heterogeneity of a region that has both recent immigrants and families who arrived in their places of residence before the United States conquered the region. However, Valdez concludes pessimistically, stating that "entrepreneurship  is not generally associated with economic progress for women" (p. 189). This conclusion contrasts with that of Lofstrom and Bates, who state that "entrepreneurship among Latinas is broadly successful" (p. 80).
The picture provided by the four quantitative  chapters, then, is mixed, and one turns to the four qualitative chapters for a more textured understanding of the complexity. Mary Ann Villareal (chapter 2) provides some historical texture in her chapter about Mexican  American entrepreneurship on "the Hill" in Corpus Christi, Texas, in the 1940s. She describes a tightly knit community that is penned in by segregation.  In part  because  of  the  discrimination  they faced as members of the community, Mexican American elites organized collectively to improve the lot of the whole community. This chapter is as much about associations as it is about  individual  businesses  and suggests  a broader conception  of entrepreneurship  than  is  typical  in  this volume, encompassing what has come to be labeled "social entrepreneurship."
Alfonso Morales's chapter (chapter 5) brings out yet another dimension of the experience, by focusing on family and interpersonal dynamics. His subject is Mexican American female street vendors in Chicago in the early 1990s. He shows how some of these women have liberated themselves from traditional gender roles, with the sometimes grudging support of their male life partners. On the other hand, others remain tightly confined by these traditions; their pursuit of entrepreneurial  oppmiunities  occurs under close scrutiny and control.
Mary Lopez and Dolores Trevizo's  chapter (chapter 6) takes us from Chicago to Los Angeles. These authors study a broader range of Mexican American business owners than does Morales, but their insights are limited. Perhaps their most striking finding is that most of the female entrepreneurs whom they spoke with believe that their businesses would not be viable in Mexico, unlike their male counterparts. One might surmise that the barriers they have in mind are not strictly economic, but also sociological and psychological, as Morales's chapter implies.
Maria Josefa Santos's study of immigrant fann owners in Michigan (chapter 7) forms one of the most interesting chapters. We do not often think of farm ownership as an ethnic business, but of course historically homesteading was one of the most common entry points of immigrants into the
American economy. Santos uses social network analysis to understand how immigrants learn to tap into the complex government and knowledge resources required to run an American farm in the 2000s. In addition, she shows that the state government is aware of the challenges that they face and has tried to reach out to them. By considering knowledge resources required for entrepreneurship, she considerably broadens the conceptual framework of the book.
A volume like this one inevitably begs as many questions as it answers. For instance, there are tantalizing clues about the prospect of a historical synthesis. Such a synthesis would not be a simple story of progress and assimilation, but one of peaks and valleys, of difference and interaction. Although the dominant paradigm in the volume focuses on ethnic entrepreneurs in service to their ethnic community, the Mexican American story probably tells a more.complex tale than this paradigm  presumes,  one that Partes  and others have begun to develop under the rubric of"transnationalism." The editors hint at this possibility in their conclusion, but the argument is inevitably underdeveloped in such a setting.
There is no doubt, as the editors state, that "the complex patterns of Latino business involvement in the United States have outpaced  efforts  to understand  them"  (p.  l 0).  The phenomenon will certainly  be of increasing empirical importance in the future as the Mexican American population expands as a share of the U.S. total. It is vital for scholars and the public alike to see the complexity of this population's economic experience and its potential for wealth creation. This book, despite its imperfections, takes an important step in that direction. 


Reviewed by: Davie! M. Hart, George Mason University
Purdue University Press, 9781557535481, 200pp.
Publication Date: August 15, 2009
About the Author
John Sibley Butler is professor of management and sociology at the University of Texas at Austin. His research areas are organizational science, with special emphasis on military and entrepreneurial organizations. He has published extensively in professional journals. His books include Immigrant and Minority Entrepreneurship: The Continuous Rebirth of American Society (with George Kozmetsky), All That We Can Be: Black Leadership the Army Way (with Charles C. Moskos), and Entrepreneurship and Self-Help Among Black Americans: A Reconsideration of Race and Economics.
or
Not Currently Available for Direct Purchase