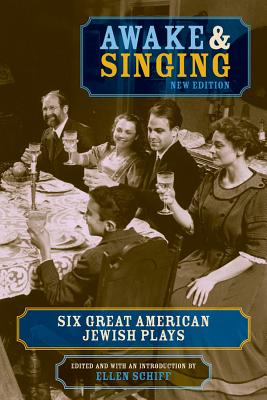 Awake & Singing
Six Great American Jewish Plays (Applause Books)
Paperback

* Individual store prices may vary.
Description
Jewish playwrights and plays of Jewish interest intended for general audiences have been increasingly conspicuous on the American stage since the early 20th century. No wonder. The evolution of Jewish life in America teems with richly dramatic material: immigration, "making it " intergenerational family relationships, the impact of the Great Depression, two World Wars, the Holocaust, the establishment of Israel, and the emergence of feminism and alternative life styles. And pre-eminently and enduringly, the dilemma of identity: how to acculturate without losing one's Jewish identity. A retrospective of the American Jewish repertoire of the last 80 years tells us a good deal about how Jews have perceived themselves and America and how America has perceived Jews. Schiff's collections, Awake and Singing (1995) and Fruitful and Multiplying (1996) were the first ever to represent the magnitude and importance of the American Jewish repertoire. This new edition brings together five plays from those pioneering anthologies: Elmer Rice's Counsellor-at-Law; Clifford Odets' Awake and Sing ; Sylvia Regan's Morning Star; Paddy Chayefsky's The Tenth Man; and Herb Gardner's Conversations with My Father. They are joined by Broken Glass, Arthur Miller's first play to focus specifically on deeply disturbing American Jewish problems: assimilation, self-hatred and terrified awareness of the Nazi threat to European co-religionists. The introductory essay provides a cultural and historical overview and there are generous headnotes to each play.
Applause Theatre & Cinema Book Publishers, 9781557835307, 587pp.
Publication Date: January 1, 2004
or
Not Currently Available for Direct Purchase