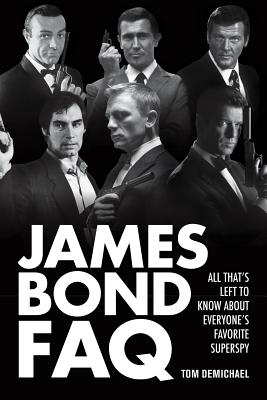 James Bond FAQ
All That's Left to Know About Everyone's Favorite Superspy
Paperback

* Individual store prices may vary.
Description
A favorite of film followers for 50 years, James Bond is the hero loved by everyone: Men want to be just like him, women just want to be with him. Moviegoers around the world have spent more than $5 billion to watch his adventures across the last five decades. What's not to enjoy about such a glorious multitude of gadgets, gals, grand locations, and grandiose schemes hatched by master villains and megalomaniacs? Now, James Bond FAQ is a book that takes on the iconic cinema franchise that's lasted for so many years. Sometimes serious as SPECTRE, sometimes quirkier than Q, but always informative, this FAQ takes the reader behind-the-scenes, as well as in front of the silver screen. Everyone's included: Connery, Lazenby, Moore, Dalton, Brosnan, and Craig; little-known facts about TV's first shot at 007, the same Bond story that was made into two different films; whatever happened to those wonderful cars and gizmos that thrilled everyone; plus much more. It's a book for the casual, as well as hardcore, James Bond fan. James Bond FAQ is filled with biographies, synopses, production stories, and images and illustrations seldom seen in print, leaving little else to be said about the world's favorite secret agent. This book includes a foreword by Eunice Gayson.
Applause Books, 9781557838568, 402pp.
Publication Date: December 1, 2012