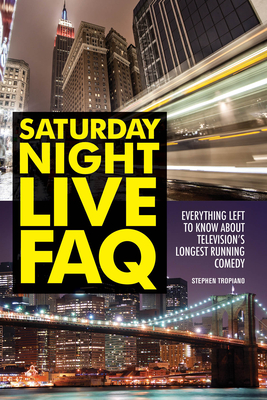 Saturday Night Live FAQ (Paperback)
Everything Left to Know about Television's Longest-Running Comedy (FAQ (Applause))
Rowman & Littlefield Publishers, 9781557839510, 476pp.
Publication Date: November 1, 2013
* Individual store prices may vary.
Description
Television history was made on Saturday, October 11, 1975, at 11:30pm (ET), when Chevy Chase welcomed America to the first episode of a new late-night comedy series. With its cutting edge satire and cast of young, talented performers, Saturday Night Live set a new standard for television comedy while launching the careers of such comedy greats as John Belushi, Chevy Chase, Dan Aykroyd, Eddie Murphy, Mike Myers, Dana Carvey, Will Ferrell, Amy Poehler, and Tina Fey. Saturday Night Live FAQ is the first book to offer the show's generations of fans everything they ever wanted to know (and may have forgotten) about SNL. Beginning with the show's creation in the mid-1970s by Lorne Michaels and the Not Ready for Prime Time Players, SNL FAQ takes you through the show's history with an in-depth look at all thirty-eight seasons. It's all here - the comedic highlights and low points, memorable hosts and musical guests, controversial moments, and, of course, the recurring characters and sketches, catch phrases, and film shorts that have made SNL the epicenter of American comedy for nearly four decades. SNL FAQ also examines the show's influence on American culture and includes profiles of over 100 SNL cast members, along with a comprehensive guide detailing every episode.