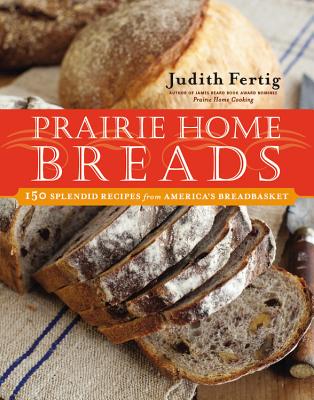 Prairie Home Breads (Paperback)
150 Splendid Recipes from America's Breadbasket
Harvard Common Press, 9781558321731, 230pp.
Publication Date: October 11, 2011
* Individual store prices may vary.
Description
Prairie Home Breads proves that not only is the Midwest where America's grains are grown, but it's also where the art of bread baking is taken seriously.To create these 150 recipes, Judith M. Fertig visited artisanal bakeries, working farmhouse kitchens, rural church suppers, urban bakeries, farmer's markets, and typical home kitchens. She found yeast breads as varied as Amish Pinwheel Bread and Roasted Sweet Pepper Bread, as well as naturally leavened breads like Brewhouse Bread and whole grain breads like Northern Prairie Barley Bread. There are also buns and rolls, as well as quick biscuits, popovers, and crackers. Along with elegant tea breads and homey muffins there are scrumptious coffeecakes, kuchens, and strudels. Last but not least, there are recipes for accompaniments and for using up leftovers.Prairie Home Breads is also filled with rich stories of ethnic and regional culture, agriculture, Midwestern culinary traditions, and warm celebrations of Heartland food.
About the Author
Judith M. Fertig is a bestselling and award-winning cookbook author. She lives in Shawnee Mission, Kansas, where she develops recipes that celebrate the rich culinary traditions of the Heartland. A recognized authority on regional Midwestern cuisine and an experienced cookbook author and food writer, she has studied at the Cordon Bleu in London and La Varenne in Paris. Prairie Home Breads follows Fertig's definitive Prairie Home Cooking, a collection of recipes inspired by the abundant produce of the Midwestern states, including wild and heirloom fruits and vegetables, game, grains, and beef. The bestselling Prairie Home Cooking was a 1999 nominee for both the IACP Cookbook Award and the James Beard Book Award. Fertig is also the author of the award-winning Pure Prairie: Farm Fresh and Wildly Delicious Foods from the Prairie, as well as several books on barbeque with coauthor Karen Adler. In addition to these cookbooks, Fertig wrote the Great Plains chapter of the American version of Culinaria, a two-volume book on American culinary traditions. She is a contributor to numerous distinguished magazines and newspapers, including the New York Times, the London Sunday Times, the San Francisco Chronicle, Saveur, Sante, Country Living, and Country Home. Fertig was inspired to write the Prairie Home cookbooks while living in London. Although she had lived and traveled all over the Midwest, living abroad gave her a new perspective, revealing the Midwest as a region of culinary innovation, cultural diversity, and fresh and varied native foods and produce. Looking at this familiar region from a new perspective allowed Fertig to capture the honest wholesomeness of Midwestern cuisine in her cookbooks. To write Prairie Home Breads, Fertig visited Old World artisanal bakeries, farmhouse kitchens, rural church suppers, community bake sales, bustling urban ethnic bakeries, farmer's markets, and home kitchens throughout the Midwest. Fertig shares her considerable culinary expertise and her appreciation of the Midwestern kitchen in cooking classes and seminars and as a restaurant consultant.
Praise For Prairie Home Breads: 150 Splendid Recipes from America's Breadbasket…
"Prairie Home Breads is packed with interesting breads and fascinating stories from the Heartland. These unique, traditional breads should be lovingly made at home and shared with family and friends. You'll never find them in a bakery. Create your own baking traditions using Judith Fertig's inspiring recipes." --Amy Scherber, author of Amy's Breads and owner of Amy's Breads, New York City

"Prairie Home Breads reminds me again of what it is that makes bread so special—its ability to connect us to something deep inside. Whether a taste memory or that warm place of comfort, bread, and certainly these breads from our own prairie Heartland, expand our awareness of the universal implications of that simple, but infinitely profound, staff of life."—Peter Reinhart, author of The Bread Baker's Apprentice and Bread Upon the Waters

"Prairie Home Breads is a deceptively humble title for a fascinating book of modern homemade breads infused with the flavor of yesteryear. America's Heartland has been almost a secret cache of enviable breadbakers and Judith Fertig has given us a taste: family recipes, bakery specialties, a sense of place, a who's who on the baking scene. Maybe we don't grow our own wheat or churn our own butter anymore, but we can most certainly bake our own bread with the heart-to-heart soul of American bakers in every loaf."—Beth Hensperger, author of The Bread Lover's Bread Machine Cookbook and The Best Quick Breads
or
Not Currently Available for Direct Purchase