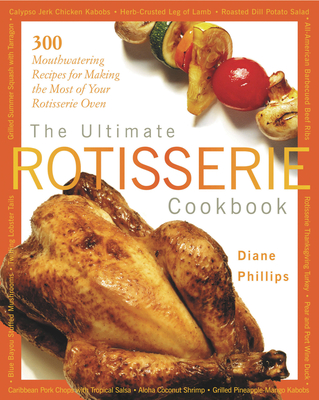 The Ultimate Rotisserie Cookbook (Paperback)
300 Mouthwatering Recipes for Making the Most of Your Rotisserie Oven
Harvard Common Press, 9781558322332, 384pp.
Publication Date: September 5, 2002
Other Editions of This Title:
Paperback, Large Print, Large Print (5/1/2010)
* Individual store prices may vary.
Description
We've all seen them in grocery stores and restaurants: delectably juicy, evenly browned, picture-perfect rotisserie chickens. Do you think they look unattainable, like something that can only be bought in a store and never replicated at home? In truth, it's as easy as can be with a rotisserie oven. A small rotisserie oven that fits right on your kitchen counter will effortlessly transform a humble chicken (and so much more) into a gloriously crispy, moist, and delicious family dinner in about an hour (while you are busy doing other things, or maybe even finding time to relax). The rotisserie is one of the most recent additions to the kitchen-appliance repertoire. What you may not realize is that it's also one of the most versatile and user-friendly. It can cook everything from meat and poultry to vegetable side dishes and desserts; it works without heating up he rest of the kitchen like an over; it's compact enough to occupy only a small amount of valuable counter space; plus, it's easy to clean! In The Ultimate Rotisserie Cookbook, Diane Phillips creatively takes the rotisserie oven well beyond chicken to every kind of food and every course of the meal. Go on, give it a whirl with recipes such as Calypso Jerk Chicken Kabobs, Roasted Garlic Prime Rib Roast, Plum Crazy Pork Chops, or Roasted Salmon with Mustard Chive Butter. Since the rotisserie bastes food in its own juices and allows excess fat to drain away, everything cooks up lighter and healthier than the same food that is cooked in the traditional oven or stovetop manner. For easy, no-fuss hors d'oeuvres or side dishes, try Blue Bayou Stuffed Mushrooms, Sugar Cane Shrimp, No-Fry Pommes Frites, or Pesto-Grilled Eggplant. With an extensive chapter of marinades, sauces, and rubs to spice things up or cool them down (how about Southwestern Fiesta Rib Sauce or Cucumber Mint Salsa?) and one on desserts to sweeten the deal (ever thought of making Rotisserie Caramel Apples or Fire-Roasted Pineapple with Macadamia Caramel Sauce?), your possibilities are limitless. The Ultimate Rotisserie Cookbook is, simply, the be-all and end-all book for the rotisserie oven, with 300 recipes for every possible way you could think of to use this amazing machine.
About the Author
Diane Phillips is the author of several cookbooks, including the James Beard Award-nominated Perfect Party Food, Happy Holidays from the Diva of Do-Ahead, The Perfect Basket, The Ultimate Rotisserie Cookbook, and The Soup Mix Gourmet. She is also a product spokesperson, consultant to the food industry, and culinary educator. She teaches her easy, elegant, do-ahead approach at cooking schools all over the country and in France, and has appeared numerous times on television.