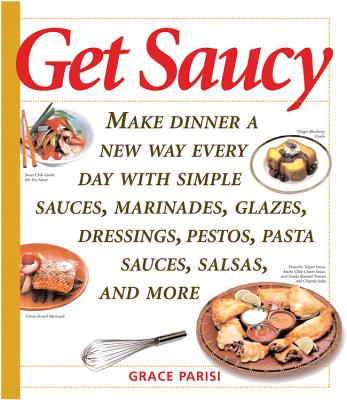 Get Saucy (Paperback)
Make Dinner A New Way Every Day With Simple Sauces, Marinades, Dressings, Glazes, Pestos, Pasta Sauces, Salsas, And More
Harvard Common Press, 9781558322370, 448pp.
Publication Date: February 10, 2005
Other Editions of This Title:
Hardcover (3/1/2005)
* Individual store prices may vary.
Description
Home cooks of all skill levels can dress up everyday dinners with these 500 sensational sauce recipes from all over the world. Whether a simple vinaigrette, a pasta sauce, or something more indulgent, nothing enhances, enlivens, and enriches a dish like a delicious sauce. Covering finishing touches from alfredo to zabaglione, from Asian dipping sauces to Southwestern salsas, this essential book can make mealtime magic, particularly for everyone who cooks every day and is always on the lookout for easy new ideas. Interspersed throughout Get Saucy are boxes on useful topics such as the best dressings to use for potato salad, the best barbecue sauces to add to chili, a dozen ways to use pestos, the best homemade hot dog condiments, and the best sauces to drizzle over pound cake or waffles. And there are suggestions for different ways to use the sauces themselves, such as making Sauce Newberg into a bisque with broth, or turning Pi¿a Colada Dessert Sauce into homemade ice cream. Finally, a special index at the back lists every sauce according to what it pairs well with, be it poultry, fish, pork, eggs, vegetables, or another meal staple. Get Saucy revisits all the classics and creates even more brand-new ones. Comprehensive, accessible, and contemporary, it's an indispensable kitchen aid.
About the Author
Grace Parisi is the author of 3 cookbooks, most recently, The Portlandia Cookbook; Cook Like a Local. Her previous book, Get Saucy was nominated for a James Beard award for Best Single Subject Book of 2005. She has since written for Cooking Light, Fitness, Epicurious, Health and O Magazine. In the kitchen Grace is adept at all cuisines and is an expert baker and recipe developer. Given the choice between sweet and savory, her response is always, "Yes, Please!" In her life outside the kitchen, Grace is a long distance runner, athlete, and an avid racer. She plays guitars, loves camping, gardening in her postage-stamp sized Brooklyn backyard and cooking for a crowd, including her husband and two children.