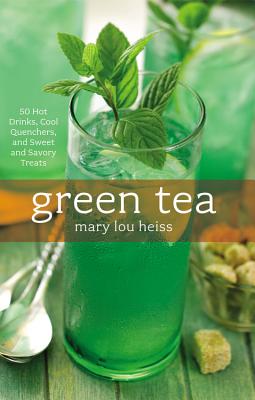 Green Tea
50 Hot Drinks, Cool Quenchers, and Sweet and Savory Treats
Hardcover

* Individual store prices may vary.
Description
Enjoyed by millions the world over for two millennia as a soothing, fragrant hot drink, green tea has steadily gained popularity in recent years. Those looking for ways to experiment with this hip, healthy, and delicious beverage will find 50 sweet and savory recipes and beautiful color photos in Mary Lou Heiss's Green Tea. Included are recipes for everything from classic hot and iced green teas to fruit smoothies, cocktails, entrees, and desserts. Warm up with Chrysanthemum Harmony Green Tea or Cinnamon-Star Anise Green Tea, and find cool refreshment in Toasted Coconut Iced Green Tea or with a Green Tea, Watermelon, and Pear Smoothie. Green tea serves as a terrific ingredient in mixed drinks like the pomegranate-infused Tropical Sky. Rounding out this collection is a selection of savory and sweet food recipes, including Spicy Green Tea-Rubbed Grilled Salmon and White Chocolate-Green Tea Ice Cream. In addition to the versatility of this beverage, medical research has proven that drinking green tea can have significant health benefits such as lowering blood pressure, bolstering immunity, protecting skin from free-radical damage, and reducing the incidence of cancer. It contains fluoride, helping to reduce the risk of cavities, and has also been shown to help maintain a healthy digestive tract. In Green Tea, enthusiasts will learn information on the history of green tea and how to select, purchase, brew, and store it. No matter how it's served, green tea is guaranteed to calm the mind and stimulate the palate with its unique, timeless flavor.
Harvard Common Press, 9781558322981, 96pp.
Publication Date: March 1, 2006
About the Author
Mary Lou Heiss is co-owner and specialty foods buyer for Cooks Shop Here, a gourmet food shop in western Massachusetts. An enthusiastic chef and world traveler, Mary Lou has filled her store for the last thirty years with authentic international coffees, teas, and foods, demonstrating a passionate understanding of their rich historical and cultural origins. The store benefits from Mary Lou's frequent trips to Asia to collect an incredible variety of teas, which she sells in her store and through her website, CooksShopHere.com. Mary Lou is a member of Culinary Historians of Boston, Tea Council of the USA, International Association of Culinary Professionals (IACP), and California Olive Oil Council (COOC). She frequently gives lectures on tea, tea gardens, world cultures, Asian/world cuisines, and olive oil. When she is not traveling the world, Mary Lou lives in Massachusetts with her husband.
or
Not Currently Available for Direct Purchase