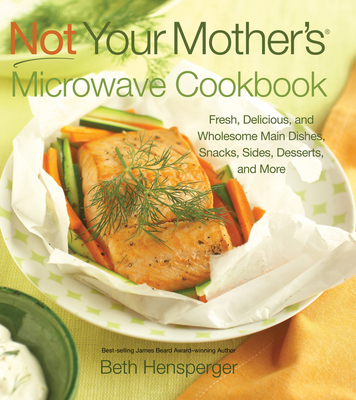 Not Your Mother's Microwave Cookbook (Paperback)
Fresh, Delicious, and Wholesome Main Dishes, Snacks, Sides, Desserts, and More
Harvard Common Press, 9781558324190, 336pp.
Publication Date: May 17, 2010
* Individual store prices may vary.
Description
Almost everyone has a microwave oven - but hardly anyone knows how to get the most out of this ubiquitous appliance. Enter Not Your Mother's Microwave Cookbook. Cookbook author extraordinaire Beth Hensperger has unlocked the secrets of the microwave, and in this comprehensive volume, she spills all. Here, you'll find all the tools you need to put speedy, sophisticated, delicious, from-scratch meals on the table morning, noon, and night. Your day of microwave cooking might begin with an Avocado-Cream Cheese Omelet, Family-Style Cream Maple-Cranberry Oatmeal, or a Cereal Bowl Vegetable Frittata. Come lunchtime, enjoy a satisfying Cream of Roasted Tomato Soup with a Grilled Cheese Sandwich or a One-Minute Apple Quesadilla. For dinner, try the Petrale Sole Amandine or Barbeque Chicken Thighs, accompanied by Asparagus in Wine or Roasted Potatoes with Garlic and Rosemary. And for entertaining, how about Middle Eastern Eggplant Dip with Pita Crisps or the indulgence of Hot Chocolate with Vanilla Whipped Cream for a Crowd? Even dessert-lovers get their due with Lemon Panna Cotta, Coconut-Macadamia Shortbread, and much more. If you've been using your microwave just for basic kitchen tasks, you don't know what you're missing. Take fresh look at that powerful little oven on your countertop: For mealtimes made easy, there's simply no better solution.
About the Author
Beth Hensperger, a New Jersey native who has lived in California since her teens, has been educating, writing, and demo-lecturing about the art of baking for over 30 years. In the last few years, she has shifted focus to countertop appliance-driven cookbooks that embrace adapting traditional and professional recipes for the home cook: the bread machine, the rice cooker, the microwave, and a four-volume compilation specifically for use with the electric slow cooker, stressing personal creativity in preparation and selection of ingredients. Hensperger is the author of over 22 cookbooks, including the best-selling Not Your Mother's Slow Cooker Cookbook series, which includes NYMSC Recipes for Entertaining, NYMSC Family Favorites, and NYMSC Recipes for Two, along with the blockbuster first volume, Not Your Mother's Slow Cooker Cookbook. Her other books include highly-acclaimed titles such as The Bread Lover's Bread Machine Cookbook, The Ultimate Rice Cooker Cookbook, NYM Microwave Cookbook, and NYM Weeknight Cooking. She is also the author of The Bread Bible (Chronicle Books), winner of a James Beard Award in 2000. She has twice been nominated for the Julia Child/IACP Cookbook Award. Hensperger wrote a San Jose Mercury News food column for twelve years, Baking with the Seasons. She is a contributor to dozens of national and online cooking & lifestyle magazines, such as Food & Wine, Every Day with Rachael Ray magazine, Veggie Life, Cooking Light, Working Woman, Victoria, Prevention, and Family Circle, and is a sought after newspaper and radio interviewee speaking on slow cooking, bread baking, and entertaining. She lives in the San Francisco Bay area. Visit her website at www.bethhensperger.com and blog at www.notyourmotherscookbook.com.
or
Not Currently Available for Direct Purchase