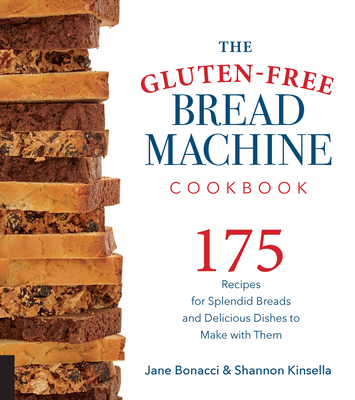 The Gluten-Free Bread Machine Cookbook
175 Recipes for Splendid Breads and Delicious Dishes to Make with Them
Paperback

* Individual store prices may vary.
Praise For The Gluten-Free Bread Machine Cookbook: 175 Recipes for Splendid Breads and Delicious Dishes to Make with Them…
"Baking beautiful gluten-free bread at home has long been a mystery. Finally, Jane and Shannon have solved the puzzle! Each exacting recipe reveals all of the tips and tricks you'll need to yield artisan-quality breads. The sourdough chapter alone is priceless!"
- Silvana Nardone, author of Cooking for Isaiah and Silvanaâ??s Gluten-Free and Dairy-Free Kitchen
"For those of us whose bodies feel better when we avoid gluten, the hardest food to give up is bread. Who wants a life without pizza, dinner rolls, or banana bread? Jane and Shannon to the rescue! These ladies have cracked the code on gluten-free baking."
- Elise Bauer, founder of SimplyRecipes.com
"Jane and Shannon have written a wonderful book that will educate and inspire all bakers, from people facing challenges from celiac disease to those of us who are looking to add variety to our meals.  In addition to the huge range of hunger-inducing recipes, it is packed with helpful information on how to keep your kitchen gluten-free."
- Rick Rodgers, co-author of Sarabethâ??s Bakery and The Model Bakery Cookbook
"I know, from reading the desires of gluten-free eaters for over a decade now, that people are hungering for The Gluten-Free Bread Machine Cookbook. Jane and Shannon have created approachable recipes for home cooks, recipes that will work. Buy that bread machine you've always wanted. It's time to start making bread."
- Shauna Ahern, author of Gluten-Free Girl and Gluten-Free Girl Every Day
"Starting with a simple everyday sandwich bread and moving on to specialty breads that will delight the palate, Jane and Shannon's book has a wealth of wonderful recipes for those who thought the delight of fresh home-baked bread was a thing of the past."
- Kate McDermott, author of Art of the Pie
Harvard Common Press, 9781558327962, 384pp.
Publication Date: December 15, 2016
About the Author
Jane Bonacci is a food writer, professional recipe developer, and editor. She is the creator, writer, and photographer of the blog The Heritage Cook, where she shares favorite recipes—many of which are gluten-free—and kitchen wisdom. Her blog has been a finalist in the International Association of Culinary Professionals Awards for Best Recipe Blog. After a successful career in high tech, she changed directions to pursue her lifelong passion for cooking and baking, working at a number of cooking schools where she cooked with and learned from many of the country's finest chefs. She lives in the San Francisco Bay area.
Shannon Kinsella is a graduate of Le Cordon Bleu/Chicago. She is the culinary development manager for Gourmet Garden, an herb and spice purveyor. She has worked as a recipe developer and chef-consultant for Frontera Foods, The Kraft Kitchens, Sur la Table, and other companies and was kitchen director for the nationally aired cooking program "Mexico One Plate at a Time," starring Rick Bayless. She lives in the Chicago area.