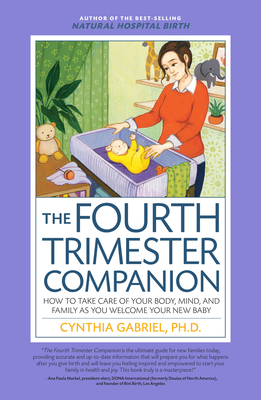 The Fourth Trimester Companion (Paperback)
How to Take Care of Your Body, Mind, and Family as You Welcome Your New Baby
Harvard Common Press, 9781558328877, 232pp.
Publication Date: December 26, 2017
* Individual store prices may vary.
Description
A well-cared-for baby is a baby whose mother is taking care of herself. Put simply: good mother care Is good baby care. 

That's the core of the Fourth Trimester concept. In recent years doctors, nurses, midwives, and others involved in providing baby care have adopted this vital concept enthusiastically. The Fourth Trimester emphasizes that how a mother takes care of herself in the first three months of a new baby's life brings crucial benefits for her, for her baby, and for her partner and family.

With this important new book, moms (as well as their partners and other caregivers, whether lay or professional) now have the resources to have an ideal Fourth Trimester experience. Cynthia Gabriel, a doula and the author of the best-selling book Natural Hospital Birth, delivers all the information, guidance, and encouragement new mothers need to take care of their bodies, minds, and spirits during the vital months of the Fourth Trimester—so that they feel their best and so their babies have the best possible chance to thrive.
 
"The Fourth Trimester Companion is the ultimate guide for any new family. Cynthia Gabriel provides accurate and up-to-date information that will prepare you for what happens after you give birth and will leave you feeling inspired and empowered to start your family in health and joy. This book truly is a masterpiece for new families today."
 --Ana Paula Markel, president-elect, DONA International (formerly Doulas of North America), and founder of Bini Birth, Los Angeles

"This book is born from Cynthia Gabriel's incredible expertise. As a medical anthropologist, an educator, a doula, and a mother of three, Cynthia guides us through the early months of infancy and early parenting not only from a place of knowledge and experience, but also with exquisite sensitivity, compassion, and practicality."
--Lesley Everest, doula and doula trainer, MotherWit, Montreal
 
"How can such a delicate and tiny being as a newborn take so much space in the house and in your heart? This book will gently take you by the hand and walk beside you. Like a good friend it will not judge, but it will offer support with the questions you have and some you might not even know were coming.  It is both practical and deep.  It will help you feel and say, 'I can do this.'"
--Kim John Payne, M.Ed., author of Simplicity Parenting and The Soul of Discipline
 
About the Author
Cynthia Gabriel is a doula, a childbirth educator, a medical anthropologist with a Ph.D. from the University of California at Santa Cruz, and a mother of three. She attends births and leads women's and parents' support groups in the Ann Arbor, Michigan, area, where she lives with her family. She is the author of the best-selling book Natural Hospital Birth.