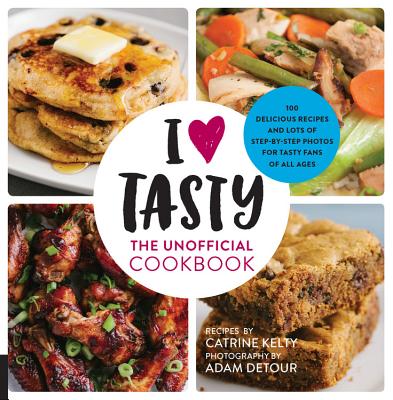 I Love Tasty (Paperback)
The Unofficial Cookbook
Harvard Common Press, 9781558328891, 224pp.
Publication Date: October 31, 2017
* Individual store prices may vary.
Description
Cook 100 Tasty-style recipes without losing your spot in the video, waiting for buffering, or dropping your phone in the mixing bowl with I Love Tasty!

Odds are you've already fallen in love with Tasty's fast-paced cooking videos. Food writer Catrine Kelty and photographer Adam DeTour sure have. Together, they have lovingly created this unofficial recipe book for their fellow fans--to enjoy, to cook from, or to give to another Tasty lover.

Each of the book's 100 recipes has at least four step-by-step photographs, making this a whole new kind of cookbook for a new generation, with a minimum of words and loads of color photos. 

I Love Tasty serves up:
Quick-fix dinners for the weekday whirl, plus fancy dinners—and awesome party foods—for lazy weekends with friends
Recipes that both help kitchen newbies learn how to cook and give experienced cooks new things to try  
Easy-to-make grab-and-go breakfasts and lunches, including smoothies, sandwiches, and salads
Nutritious-but-delicious energy-boosting snacks for after school or after work
Lots of luxurious and decadent cookies, cakes, brownies, blondies, pies, tarts, and more, for anyone who loves sweet things
This is a fan book for anyone who loves Tasty and their visually driven, step-by-step videos. These recipes are easy to follow and create incredibly tasty results. And if you love someone who loves Tasty, this book is the perfect gift.
About the Author
Catrine Kelty is an award-winning food writer and food-photography stylist whose work has appeared in Rachael Ray magazine, Yankee magazine, the Boston Globe, and many other venues. She lives in Boston.
Praise For I Love Tasty: The Unofficial Cookbook…
"A feast for your eyes in cookbook form. Every recipe is straightforward. Lists of ingredients rarely exceed 10 easy-to-find items, because who wants to hunt down some obscure seasoning that will never, ever be used again? An average of four to five pictures also illustrate the different steps of each food formula. Adam Detour's photos are bright, clear and do a great job of showing the reader what's going on without losing their visually pleasing appeal."
--Creative Loafing Tampa Bay
"If you've logged into Facebook anytime in the past year or so, chances are you're familiar with Tasty's mesmerizing, overhead-view viral recipe videos.
Inspired by their highly visual simplicity, food writer Catrine Kelty penned this homage featuring recipes for every meal and food group, broken down into step-by-step photographs. The result is foolproof instructions that don't require a WiFi connection or constantly hitting the "pause" button."
--StyleCaster.com
or
Not Currently Available for Direct Purchase