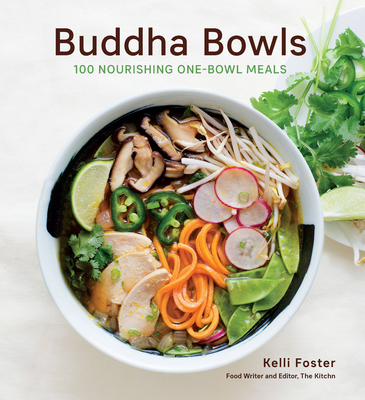 Buddha Bowls (Hardcover)
100 Nourishing One-Bowl Meals
Harvard Common Press, 9781558329157, 176pp.
Publication Date: July 3, 2018
* Individual store prices may vary.
Description
Beautiful and inspiring one-dish meals in a bowl!

Buddha bowls, occasionally called "bliss bowls," "nourish bowls," or "power bowls," are the ultimate in one-dish meals. You start with a base of whole grains, rice, noodles, or legumes. Then you layer on a generous assortment of cooked or raw vegetables. Finally, you top the veggies with a boost of protein and then a dressing, sauce, or broth. Buddha bowls are an easy, healthy meal that can be ready in minutes and that you can have for breakfast, lunch, or dinner—or, if you like, all three!

The Buddha bowl concept is loosely based on guidance from Chinese medicine: a meal should have vegetables, protein, and grain. Typically, in a Buddha bowl there is a high ratio of ingredients to broth or sauce and the ingredients are left whole or in large pieces, and not blended, minced, or pureed. Although it is Asian in inspiration, a Buddha bowl can be made with a variety of ingredients from just about anywhere on the planet.

Kelli Foster, who writes about food for the popular website The Kitchn, serves up in these pages an amazing variety of Buddha bowl ideas, each one vibrant with color, alive with flavor, and oh-so-comforting to eat. Can you think of a heartier way to start the day than with a Blackberry Millet Breakfast Bowl, a Coconut Quinoa Breakfast Bowl, or a Chai-Spiced Multigrain Porridge Bowl, just three among many breakfast bowl ideas?

Later in the day, for cozy meals with loved ones, how about Warm Autumn Chicken and Wild Rice Bowls, Sesame Tuna Bowls, or Lamb Kebab Bowls? For company, Lentil and Smoked Salmon Nicoise Bowls or Miso Noodle Bowls with Stir-Fried Beef will delight your guests. There are many vegan recipes, too, from Cauliflower Falafel Power Bowls to Spicy Sesame Tofu and Rice Bowls and beyond. A special chapter on fruit bowls has ideas for power-snacking, as well as for meals.

Buddha bowls are elegant in appearance and flavor, but surprisingly easy to make—a perfect marriage of convenience and good taste. If you haven't tried them yet, now you have a great reason!
About the Author
Kelli Foster is a staff writer and editor for The Kitchn, one of the most widely read online destinations in the world for recipes and kitchen wisdom. A triathlete and a devoted fan of healthy eating, she is a graduate of the French Culinary Institute and lives in New York City.
Praise For Buddha Bowls: 100 Nourishing One-Bowl Meals…
Buddha Bowls is the way I like my meals: simple, nourishing, and fresh. Each bowl is a delight to the eye as well as the tummy—making it that much more of a joy to prepare, whether for yourself or your family.
 
- Summer Rayne Oakes, Certified Holistic Nutritionist and author of SugarDetoxMe
As someone who prefers to eat all of her meals in bowl form, I couldn't be happier to get my hands on Kelli Foster's Buddha Bowls. From the bowl being an actual vegetable, as in her winter squash breakfast bowls, to a hot bowl of pho with sweet potato noodles, each recipe leaves your taste buds and belly satisfied. I can't wait to cook my way through Buddha Bowls!
- Ali Maffucci, author of Inspiralized and Inspiralized and Beyond
If you don't already believe everything tastes better in a bowl, Buddha Bowls will convince you. From Golden Milk Chia bowls for breakfast to Super Green Quinoa or Masala Chickpea bowls anytime, Foster's bowls are colorful, healthful, and soulful, as all bowls should be.
- Molly Watson, author of Greens + Grains and Bowls