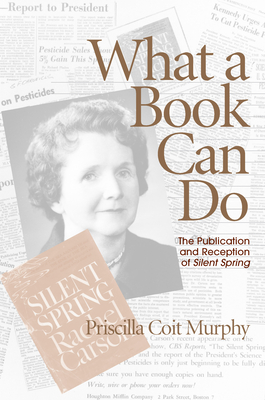 What a Book Can Do: The Publication and Reception of Silent Spring (Paperback)
The Publication and Reception of Silent Spring
University of Massachusetts Press, 9781558495821, 254pp.
Publication Date: April 3, 2007
* Individual store prices may vary.
or
Not Currently Available for Direct Purchase
Description
In 1962 the publication of Rachel Carson's Silent Spring sparked widespread public debate on the hazards of pesticide abuse for humans and their environment. Within a year, the controversy had spread throughout print and broadcast media. Despite its preliminary appearance in a magazine, Silent Spring reached the full media system and made its lasting impression in the form of a book. With clarity and precision, Priscilla Coit Murphy explores how a newsmaking book enabled a single voice of warning to gain the attention of the entire country, and beyond. Murphy's exploration follows the story of the book and the controversy, beginning with the author's mission and the response of her publishers, Houghton Mifflin and the New Yorker. Focus then turns to Carson's opponents and their counter-campaign, including their efforts to undermine, delay, or stop publication altogether. Moving next to the media, Murphy describes how, beyond providing a forum for the debate, they became active participants in it. Finally, she examines the general public's perceptions and expectations regarding the book, the debate, and the media. Shedding new light on the dynamic between newsmaking books, the media, and the public, Murphy raises a host of broader questions about the place of dissenting books in American culture, past, present, and future.

About the Author
Priscilla Coit Murphy is an independent scholar who lives in Chapel Hill, North Carolina.
Advertisement