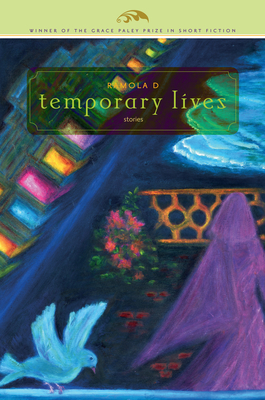 Temporary Lives
Stories (Grace Paley Prize in Short Fiction)
Hardcover

* Individual store prices may vary.
Description
These ten memorable stories explore interior worlds and moments of intensity, either awakening or loss, in the lives of diverse characters—mostly young girls and married women, but also boys and long-laboring men. Whether Hindu, Muslim, or Christian, they are all burdened by the complex layerings of class and gender, and are variously able or unable to find escape from the conditions of oppression that surround them. Some manage to rise above their situations by experiencing the denials and hardships of their lives as temporary; others find no such relief.

In the title story, Rose Ammal, who married young and bore numerous children, survives her husband's betrayal and religious conversion by creating her own private redemptions and conversions. "The Next Corpse Collector" chronicles significant moments in the lives of two young brothers, Anwar and Amir, who seek to escape the destiny of corpse
collector, the job their father is determined to bequeath to them. "What the Watchman Saw" offers a glimpse into the life of Venkatesh, a longtime watchman who is faced with the dilemma of whether to report the theft of stolen antiquities from the house of his new neighbor.

"Esther" is a tale of the haunting, troubled spirit of Leeza's grandmother, who lingers in Leeza's childhood home and unexpectedly helps her during the summer her grandfather dies as she wakes to an adolescent infatuation with a neighbor boy. In "The Couple in the Park," a young middle-class wife, Laura, in a constrictive arranged marriage, finds comfort in watching a couple in the park who remind her of her own grandparents as she tips over the edge into schizophrenia. "The Man on the Veranda" traces a significant day in the life of retired government-worker Parameswaran—the day his wife finally leaves him.
Praise For Temporary Lives: Stories (Grace Paley Prize in Short Fiction)…
"I was enthralled by how the author's world, so different from my own, nonetheless raised important issues about my own humanity, ethnicity, race, and class. There is real passion underlying and within these well-constructed stories. They are never pedantic or didactic. The characters revel in their complex humanity. Temporary Lives is a polished, well-crafted, and profound collection worthy of the Grace Paley Prize for Short Fiction. Exploring oppressed peoples of India—men and women, across a range of ages—is no small feat. I particularly liked the author's ability to stop time—to reveal in small moments the largeness (and, sometimes, the tragic smallness) of life. Interior lives are burnished with precise, sensual prose. I loved all the stories in this collection and how the thematic vision of 'temporary lives' was fulfilled."—Jewell Parker Rhodes, contest judge and author of Yellow Moon: A Novel

"In a stunning, multi-layered story collection examining the marginal among us, George Washington Univ. teacher Ramola D (Invisible Season: Poems) offers ten vivid portraits of modern-day misfits. Tackling everything from class struggle to gender issues to interfamily favoritism, D skillfully reveals the story behind each of her protagonists against an often bleak present and glimpses of a fairy tale ending sadly (or ironically) out of reach. Throughout, she proves an insightful storyteller with a poetic knack for evoking the beautiful and the brutal. . . . Though D's supple prose is the main attraction, she also manages to surprise with some of her (typically) melancholy endings."—Publishers Weekly

"Magical, mythical, memorable, moving. Ramola D is a Scheherazade of the first order. This is a book to savior."—Sandra Cisneros, author of Caramelo and The House on Mango Stree

"The often tragic lives of the characters in Ramola D's stories are told in a shimmering, poetic prose. Ultimately, these stories show life as it is: a tough, lonely journey. Unflinching in its vision, Temporary Lives reflects an intelligence and sensitivity that is rare."—Githa Hariharan, author of Fugitive Histories and The Art of Dying

"If life is short, indeed temporary, then it must be celebrated and enjoyed to its fullest. But in Ramola D's heartbreaking debut, life can also be claustrophobic and oppressive with cultural and social expectations. Her stories examine how women suffer quietly with the emotional turmoil of their invisibility, how men look back upon a life lived and wonder with sadness whether it was indeed a rewarding one, and how young people must confront the frightening prospect of an adulthood mapped out for them—from marriage to profession—and decide whether they have the courage to defy tradition. These stunning narratives guide us through an unforgettable world where even the most hidden pain or silent grief longs for recognition. Compelling and skillfully constructed, these stories are 'like threads of light from distant stars, delicate in their entrance but powerful.'"—Rigoberto González, author of Crossing Vines and Men without Bliss
University of Massachusetts Press, 9781558497429, 176pp.
Publication Date: November 23, 2009
About the Author
Ramola D teaches creative writing at George Washington University and at the Writer's Center in Bethesda. Her poetry collection, Invisible Season, won the Washington Writers' Publishing House Award.
or
Not Currently Available for Direct Purchase