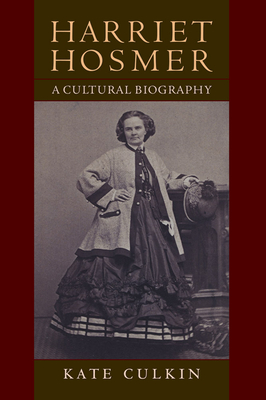 Harriet Hosmer (Paperback)
A Cultural Biography
University of Massachusetts Press, 9781558498396, 219pp.
Publication Date: October 27, 2010
* Individual store prices may vary.
Description
Harriet Hosmer (1830--1908) was celebrated as one of the country's most respected artists, credited with opening the field of sculpture to women and cited as a model of female ability and American refinement. In this biographical study, Kate Culkin explores Hosmer's life and work and places her in the context of a notable group of expatriate writers and artists who gathered in Rome in the mid-nineteenth century.
In 1852 Hosmer moved from Boston to Rome, where she shared a house with actress Charlotte Cushman and soon formed close friendships with such prominent expatriates as Robert and Elizabeth Barrett Browning and fellow sculptors John Gibson, Emma Stebbins, and William Wetmore Story. References to Hosmer or characters inspired by her appear in the work of Nathaniel Hawthorne, Louisa May Alcott, and Kate Field among others. Culkin argues that Hosmer's success was made possible by her extensive network of supporters, including her famous friends, boosters of American gentility, and women's rights advocates. This unlikely coalition, along with her talent, ambition, and careful maintenance of her public profile, ultimately brought her great acclaim. Culkin also addresses Hosmer's critique of women's position in nineteenth-century culture through her sculpture, women's rights advocates' use of high art to promote their cause, the role Hosmer's relationships with women played in her life and success, and the complex position a female artist occupied within a country increasingly interested in proving its gentility.
About the Author
Kate Culkin is assistant professor of history at Bronx Community College. Find Kate Culkin on Facebook: https: //www.facebook.com/harriethosmer
or
Not Currently Available for Direct Purchase