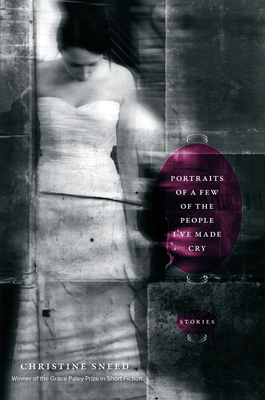 Portraits of a Few of the People I've Made Cry
Stories (Grace Paley Prize in Short Fiction)
Hardcover

* Individual store prices may vary.
Other Editions of This Title:
Paperback (2/12/2013)
Description
The ten stories in this striking debut collection examine the perils of love and what it means to live during an era when people will offer themselves, almost unthinkingly, to strangers. Risks and repercussions are never fully weighed. People leap and almost always land on rocky ground. May-December romances flourish in these stories, as do self-doubt and, in many cases, serious regret. Mysterious, dangerous benefactors, dead and living artists, movie stars and college professors, plagiarists, and distinguished foreign novelists are among the many different characters. No one is blameless, but villains are difficult to single out--everyone seemingly bears responsibility for his or her desires and for the outcome of difficult choices so often made hopefully and naively.
Praise For Portraits of a Few of the People I've Made Cry: Stories (Grace Paley Prize in Short Fiction)…
"If this story collection crackles with the energy of youth, it also feels written by a cool-eyed soul reincarnated at least three times. . . . By turns funny and pitiless, these tales amount to a vision. The book's voice is unforced in its ready wit, detached compassion. There is an admirable candor. Each character's sexuality seems the natural outcome of a life fully risked."—Allan Gurganus, contest judge and author of The Practical Heart and Oldest Living Confederate Widow Tells All

"I can't recall the last time I tore through a story collection with such unbridled gratitude. Christine Sneed is fearless. She sends her heroines zooming toward the disasters foretold in their own soft hearts, but she does so without histrionics. She's brutally honest and equally tender about the manners in which women find themselves entrapped. To call her a rightful heir to Grace Paley and Lorrie Moore is accurate but insufficient. Portraits of a Few of the People I've Made Cry is a stone-cold miracle, and Christine Sneed is my new hero."—Steve Almond, author of My Life in Heavy Metal and The Evil B.B. Chow

"Here are ten mesmerizing stories full of mystery and insight and humor. Christine Sneed's debut collection is crowded with lively, sympathetic characters—nurses, screenwriters, teachers, movie stars, painters, bookkeepers, hairdressers—ordinary and extraordinary people struggling for what we all struggle for—love, connection, and the recognition that our lives matter."—Maura Stanton, author of Cities in the Sea

"These stories are victorious and gripping, each one addictive as a novel, with the depth and mystery of a whole soul compressed inside. Sneed sides with her bewildered hearts as if she were watching them fly."—Deb Olin Unferth, author of Vacation

"Ten finely delineated tales featuring protagonists entangled in less-than-ideal romantic scenarios constitute this year's winner of the Grace Paley Prize. . . . Teetering on the brink of self-possession, Sneed's protagonists aren't sure they trust themselves. . . . Sneed writes with the care of a fine stylist and the heart of a sympathetic reader."—Publishers Weekly (starred review)

"Sneed's first collection was awarded the Grace Paley Prize in Short Fiction, an honor clearly deserved given the lucidity of her style, the depth of her perception, and her supple mix of wit, frankness, and compassion. Beautifully interiorized, her provocative stories explore unbalanced relationships, particularly between men and women of differing ages. Sneed also has a rare gift for convincingly articulating the sensations and emotions of sex. . . . With a surprisingly futuristic and funny closing story, this is an exceptionally smart, connective, and moving collection."—Booklist

"This is a collection to relish, not only for the care that is evident in each turn of phrase, but for its ability to turn weaknesses into thoughtful, sometimes melancholy explorations of contemporary adulthood."—ForeWord

"It's easy to get beaten down by this job: Read a series of mediocre books and you begin to feel like you've lost that loving feeling. The best part of the gig is that a book always comes around to smack you out of your daze. Sneed's debut story collection was this year's wake-up call. Simply beautifully written stories."—Time Out Chicago

"Sneed writes so carefully that at times it feels as though the words are hardly there and we're in the characters' heads, taking the plunge with them."—Time Out Dubai

"In Portraits of a Few People I've Made Cry, Christine Sneed's talent for creating compelling stories and vivid characters suggests V.S. Pritchett being channeled by Elizabeth McCracken, and one wonders how this extraordinarily accomplished collection of stories could be her first."—Rain Taxi

"The writing is pretty keen throughout, but I'd like to single out the beginning paragraph of 'Twelve + Twelve' as one of my favorites of my past year of reading, a bitter little firecracker screed that put me right where I needed to be in the story. . . . coming across a book like this, full of solidly-plotted, well-written stories by an up-and-comer with a clarity of vision that seems rarer and rarer in the contemporary short story . . . well, it's a nice feeling is all."—American Literary Review

"[Sneed] takes you to places you might not have been before and gives them the feel of authentic experience, which is to say, gives us stories that become part of our public memory. That's what all good fiction does, I think. It gives us the memory of our culture."—Chicago Tribune

"Sneed's 'Portraits' demonstrate a compellingly honest and affecting voice."—San Francisco Chronicle

"Sneed's characters fall in love, fall out of love and try to figure out why. They seethe and they burn. They suffer and rejoice. They sit and wait. In most cases, they think altogether too much. Love, of course, is a theater, the best arena we have for highlighting the human tendency toward emotional self-destruction,. Sneed carefully arranges each story on that stage, and the brisk little dramas are insightful moving, funny, sometimes brilliant."—Cultural Critic

"Portraits has the authority, range, and freshness to desrve the next level of success: getting passed from one reader's hand to another's."—Chicago Reader

"Ordinarily one must make allowances for an author's first short-story collection. No such handicapping is necessary here: Not only are Christine Sneed's characters fully realized, she is sufficiently mature to plumb their relationships thoroughly and accomplished enough to fully realize the environments they occupy. Their creator combines youthful dash with rare wisdom, humor and an eye for the unexpected."—Lit New City
University of Massachusetts Press, 9781558498587, 168pp.
Publication Date: December 22, 2010
About the Author
Christine Sneed teaches creative writing and literature courses at DePaul University. A graduate of the MFA creative writing program at Indiana University, she has published stories in Best American Short Stories 2008, New England Review, Massachusetts Review, and many other journals.
or
Not Currently Available for Direct Purchase