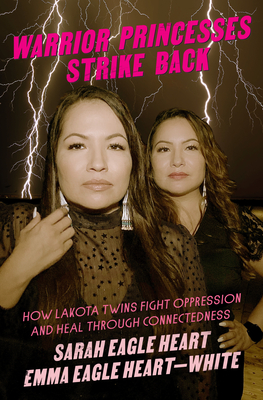 Warrior Princesses Strike Back
How Lakȟóta Twins Fight Oppression and Heal Through Connectedness
Paperback

* Individual store prices may vary.
Description
Interspersing personal memoir with radical notions of self-help and collective recovery, Warrior Princesses Strike Back focuses how Indigenous activist strategies can be a crucial roadmap for contemporary truth and healing.
Pine Ridge Indian Reservation is home to the original people of this land, yet it is also one of the poorest communities in America. Through intimate and vulnerable memoir, Lakȟ ta twin sisters Sarah Eagle Heart and Emma Eagle Heart-White recount growing up on the reservation and overcoming enormous odds, first as teenaged girls in a majority-white high school, and then battling bias in their professional careers. Woven throughout are self-help strategies centering women of color, that combine marginalized histories, psychological research on trauma, and perspectives on "decolonial therapy." Through the lens of Indigenous activism, the Eagle Hearts explore the possibility of healing intergenerational and personal trauma by focusing traditional strategies of reciprocity, acknowledgement, and collectivism.
Feminist Press, 9781558612938, 296pp.
Publication Date: January 17, 2023
About the Author
Sarah Eagle Heart is an Emmy Award-winning storyteller and the co-CEO of Return to the Heart Foundation, where she works tirelessly for social justice and the visibility of Native American womxn. She served as CEO of Native Americans in Philanthropy, a national nonprofit that focuses on investment in Native American communities, and founded the Eagle Heart Collective in 2019, which prioritizes narrative change, leadership development, and social justice storytelling. Emma Eagle Heart-White (Wanbli Wiyaka Win, Eagle Feather Woman), Oglala Lakota, is a survivor, counselor, and advocate. She has been employed as a psychotherapist, domestic-abuse advocate, and youth advocate for the Oneida Nation of Wisconsin. She served as adjunct staff at the University of Wisconsin Oshkosh, teaching domestic violence classes to undergraduate students. She holds a Masters of Arts in Counseling with a Community emphasis from Lakeland College.