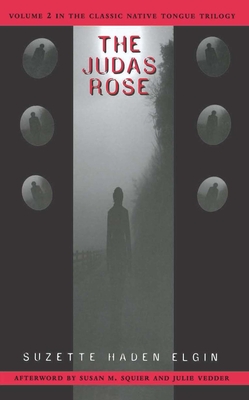 The Judas Rose
Paperback

* Individual store prices may vary.
Description
An instant cult classic upon first publication, Suzette Haden Elgin's Native Tongue trilogy has earned wide critical acclaim, shocking and captivating a loyal readership among science fiction and women's literature audiences alike. Sequel to the enormously popular Native Tongue, The Judas Rose continues Elgin's gripping vision of a frightening, male-dominated world where the women of Earth are virtually enslaved. Once again, this group of women--and the nonviolent yet transformative power of language--is called upon to challenge Earth's violent, patriarchal order. Their revolutionary tool is Laadan--a secret women's language created to free them from men's control and make resistance possible for all women. In The Judas Rose, the time has come to take Laadan from underground and spread its revolutionary power to women everywhere--in part, through a group of nuns inside the Roman Catholic Church. But when a handful of horrified priests uncover the women's sabotage they move to stamp it out with an undercover female agent of their own.
Feminist Press, 9781558614031, 380pp.
Publication Date: October 1, 2002
About the Author
Suzette Haden Elgin (born Patricia Anne Wilkins; 1936 - 2015) is an American science fiction author. She founded the Science Fiction Poetry Association, and is considered an important figure in the field of science fiction constructed languages. Elgin was also a linguist; she published non-fiction, of which the best-known is the Gentle Art of Verbal Self-Defense series.
or
Not Currently Available for Direct Purchase