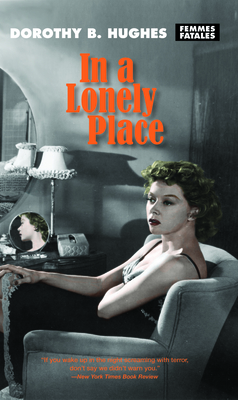 In a Lonely Place (Paperback)
The Feminist Press at CUNY, 9781558614550, 256pp.
Publication Date: November 1, 2003
Other Editions of This Title:
Hardcover (11/1/2003)
* Individual store prices may vary.
Description
"Puts Chandler to shame . . . Hughes is the master we keep turning to."--Sara Paretsky, author of the V. I. Warshawski novels
"A superb novel by one of crime fiction's finest writers of psychological suspense. . . . What a pleasure it is to see this tale in print once again "--Marcia Miller, author of the Sharon McCone novels
"This lady is the queen of noir, and In a Lonely Place is her crown."--Laurie R. King, author of the Mary Russell novels
Postwar Los Angeles is a lonely place where the American Dream is showing its seamy underside--and a stranger is preying on young women. The suggestively names Dix Steele, a cynical vet with a chip on his shoulder about the opposite sex, is the LAPD's top suspect. Dix knows enough to watch his step, especially since his best friend is on the force, but when he meets the luscious Laurel Gray--a femme fatale with brains--something begins to crack. The basis for extraordinary performances by Humphrey Bogart and Gloria Grahame in the 1950 film version of the book, In a Lonely Place tightens the suspence with taut, hard-boiled prose and stunningly undoes the convential noir plot.
Femmes Fatales restores to print the best of women's writing in the classic pulp genres of the mid-20th century. From mystery to hard-boiled noir to taboo lesbian romance, these rediscovered queens of pulp offer subversive perspectives on a turbulent era. Enjoy the series: Bedelia; The Blackbirder; Bunny Lake Is Missing; By Cecile; The G-String Murders; The Girls in 3-B; In a Lonely Place; Laura; Mother Finds a Body; Now, Voyager; Skyscraper; Stranger on Lesbos; Women's Barracks.
or
Not Currently Available for Direct Purchase