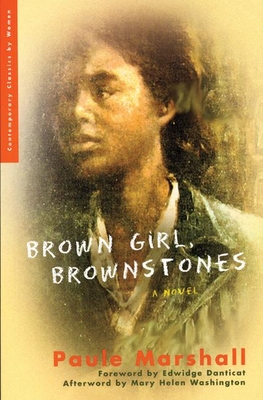 Brown Girl, Brownstones (Contemporary Classics by Women (Feminist Press))
Paperback

* Individual store prices may vary.
Other Editions of This Title:
Paperback (12/11/2015)
Hardcover (12/11/2015)
Paperback (4/14/2014)
Paperback (5/23/2019)
Paperback (1/15/2009)
Paperback (11/29/2013)
Description
A vivid and bittersweet classic coming-of-age tale, set in immigrant Brooklyn. "Remarkable for its courage, its color, and its natural control." --The New Yorker "An unforgettable novel written with pride and anger, with rebellion and tears." --New York Herald Tribune Set in Brooklyn during the Great Depression and World War II, Brown Girl, Brownstones chronicles the efforts of Barbadian immigrants to surmount poverty and racism and to make their new country home. Selina Boyce is torn between the opposing aspirations of her parents: her hardworking, ambitious mother longs to buy a brownstone row house while her easygoing father prefers to dream of effortless success and his native island's lushness. Featuring a new foreword by Edwidge Danticat, this coming-of-age tale grapples with identity, sexuality, and changing values in a new country, as a young woman must reconcile tradition with potential and change.
Feminist Press, 9781558614987, 319pp.
Publication Date: August 1, 2006
About the Author
Paule Marshall is the author of the novels Brown Girl, Brownstones; The Chosen Place; The Timeless People; Praisesong for the Widow; and Daughters. She has also written several collections of short stories, including Reena and Other Stories, and a memoir entitled Triangular Road. She is Hellen Gould Sheppard Professor of Literature and Culture at New York University.